Snowsports Instruction
Our comprehensive instruction programs are designed to make you a better skier or snowboarder while having fun and enjoying the mountains. You can choose programs that last two hours, one day, two days or four days. Our classes cover all levels, from beginners through advanced, and our instructors are PSIA-AASI certified. If you have never touched a pair of skis or a snowboard in your life, here's a great way to learn at your own pace on our private beginner slope. Or, if you're an intermediate or experienced rider, sharpen your skills with our professional instructors who know the mountain best.

Please note, during Christmas / New Year's holidays we will only be offering daily beginner skiing and snowboarding lessons. Follow on lessons are based on instructor availability.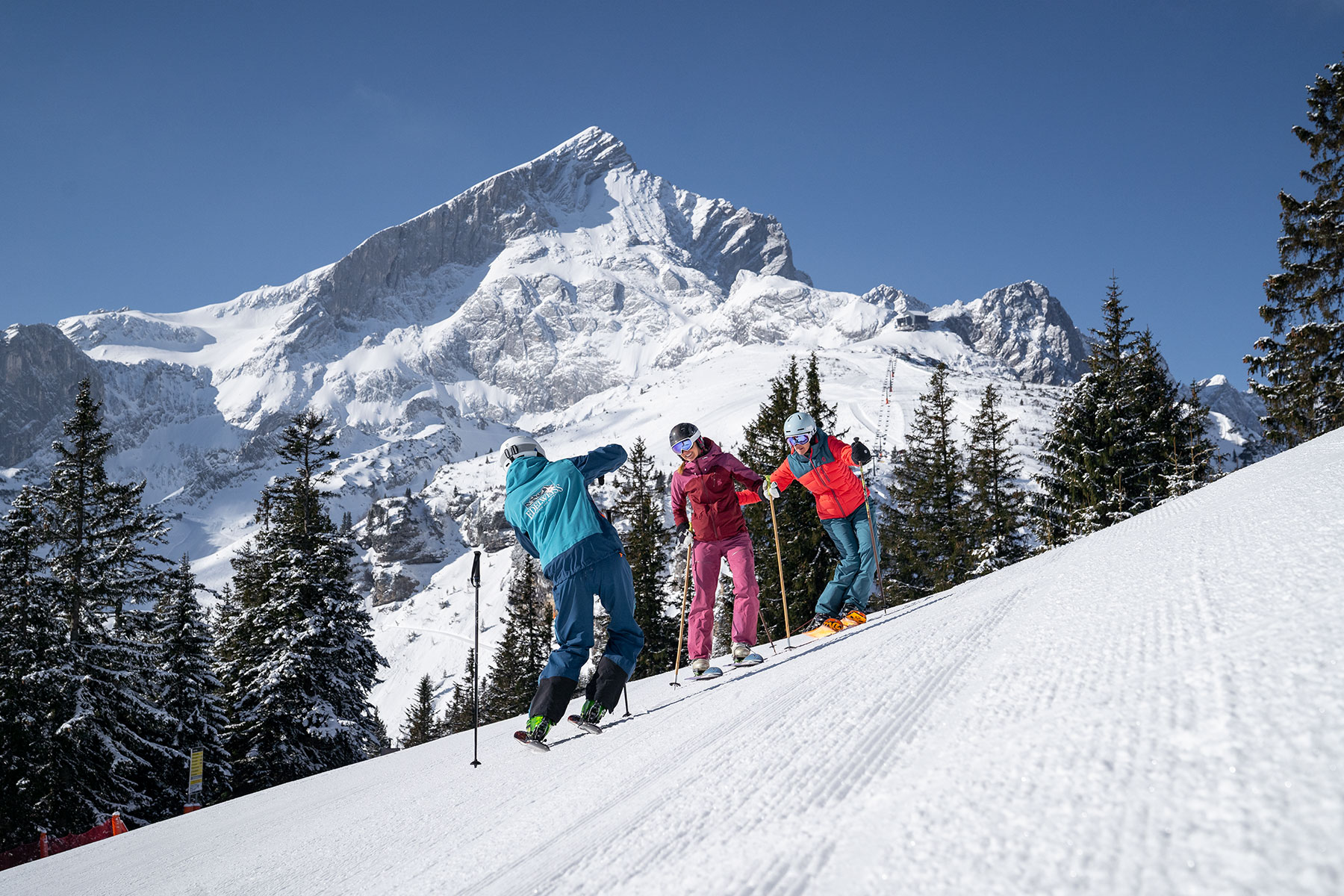 Snowsports Instruction Weeks
Our 4-day programs are designed to help you improve your riding skills while having fun and enjoying the picturesque mountain settings of the Garmisch Valley. We offer multi-day classes for beginner snowboards and multi-day from beginner through advanced for skiers. Private snowboard lessons may be available for intermediate level and above. Check the Hausberg Lodge for instructor availability.
All instruction is taught by PSIA-AASI certified instructors. If you have never touched a pair of skis or a snowboard in your life, learn at a leisurely pace on our private beginner ski slope. Snowsports instruction weeks include:

• Check-in and class assignment 1300 - 1700 day prior to program start
• Late check-in 0800 - 0815 on first program day. Please don't be late.
• 4 hours of daily instruction
• Equipment rental including helmet
• Lift ticket to appropriate slopes according to your ability
• Final day ski and snowboard fun race competition
• Transportation to and from Edelweiss Resort
• Redeemable lift ticket deposit fee It is possible to join these programs for a shorter number of days but we encourage you to take advantage of the great price break for completing the whole course.

Any class with 4 or fewer participants will be a two-hour lesson per day. If 5 or more participants in a class, lessons will be 4 hours. Participants will still be able to ski all day on their lift tickets after the two-hour lesson is complete. Helmets are required during lessons and are available at the Hausberg Lodge. Advance booking is required. Contact the Hausberg Sport Lodge at CIV 08821-944-4581 during the winter season.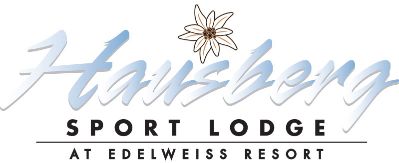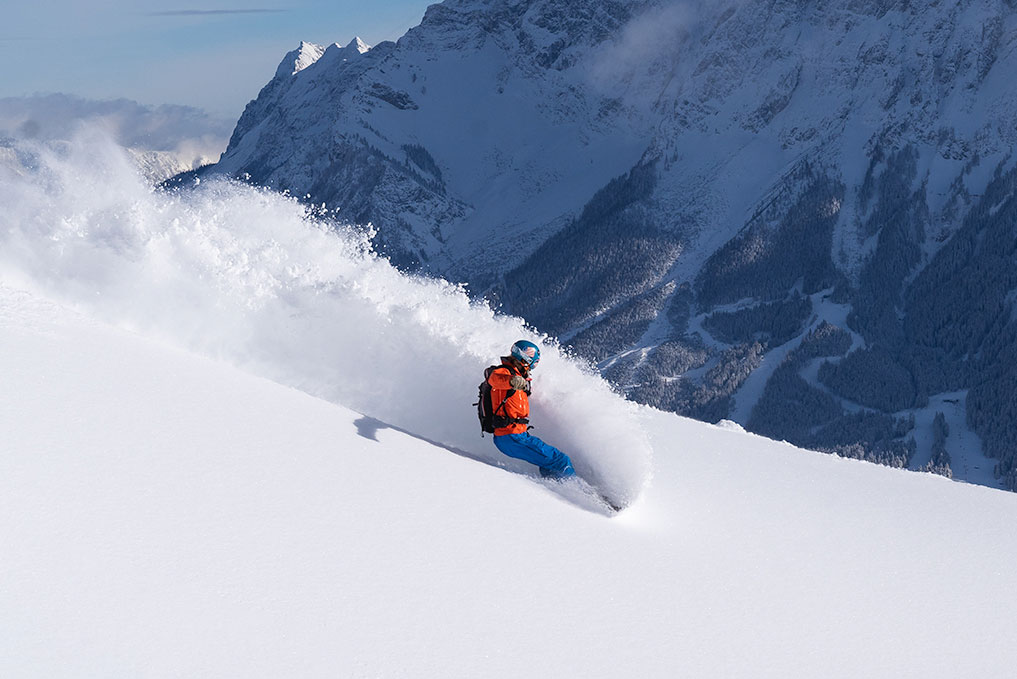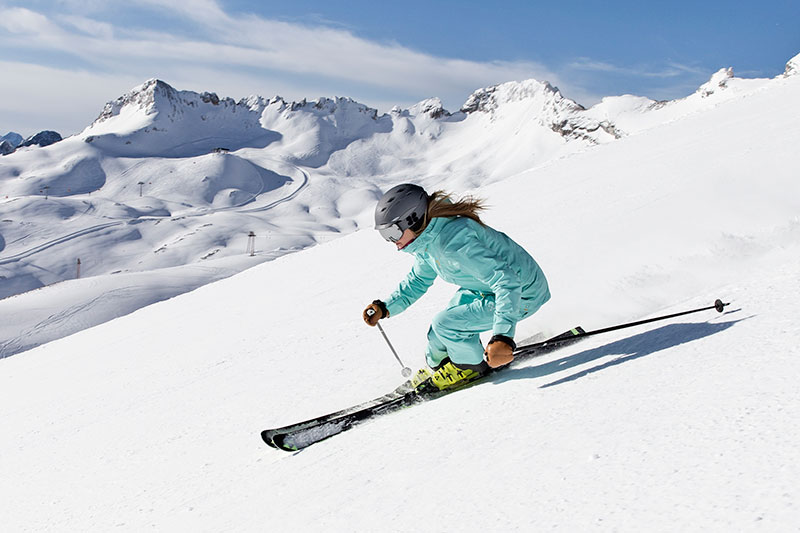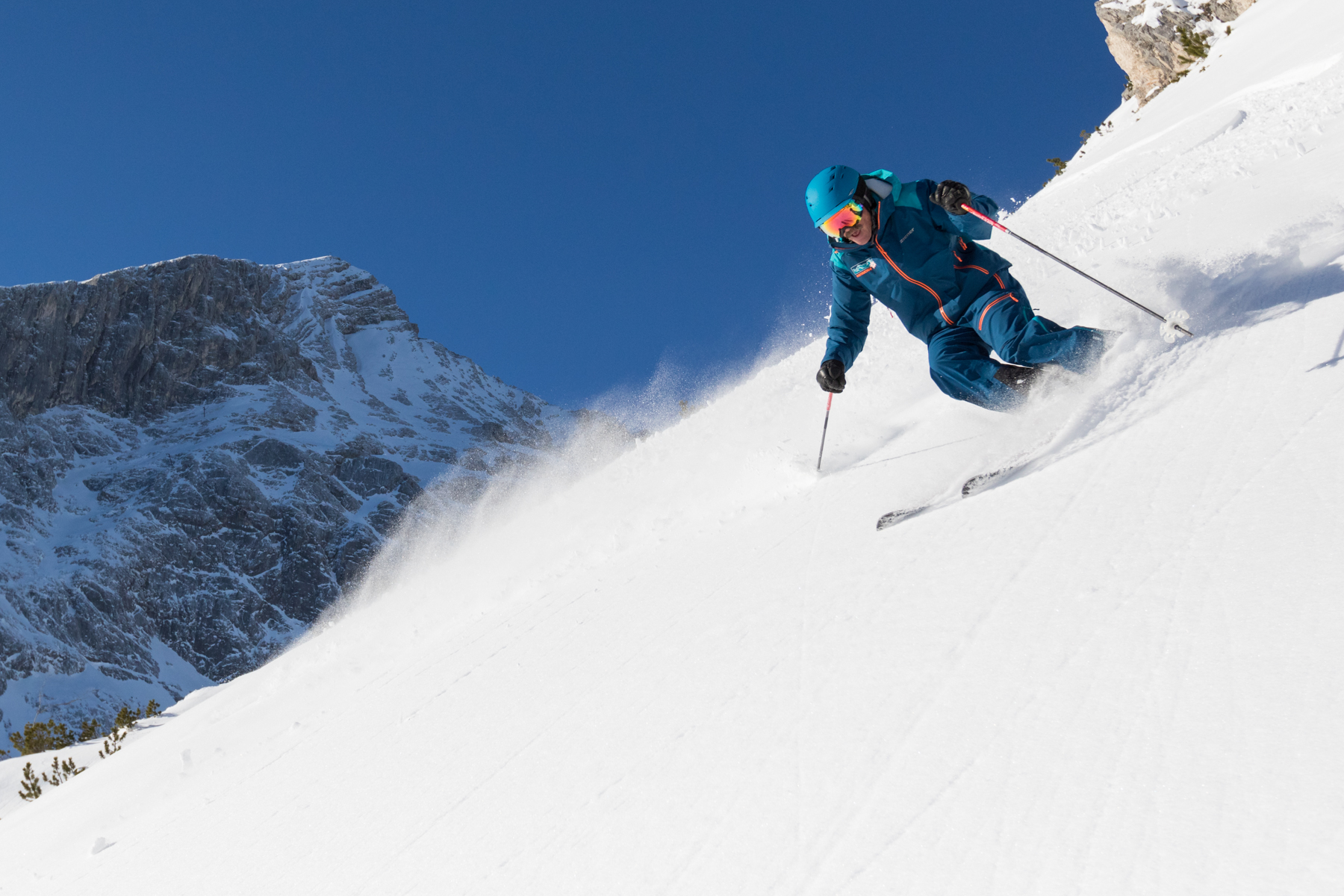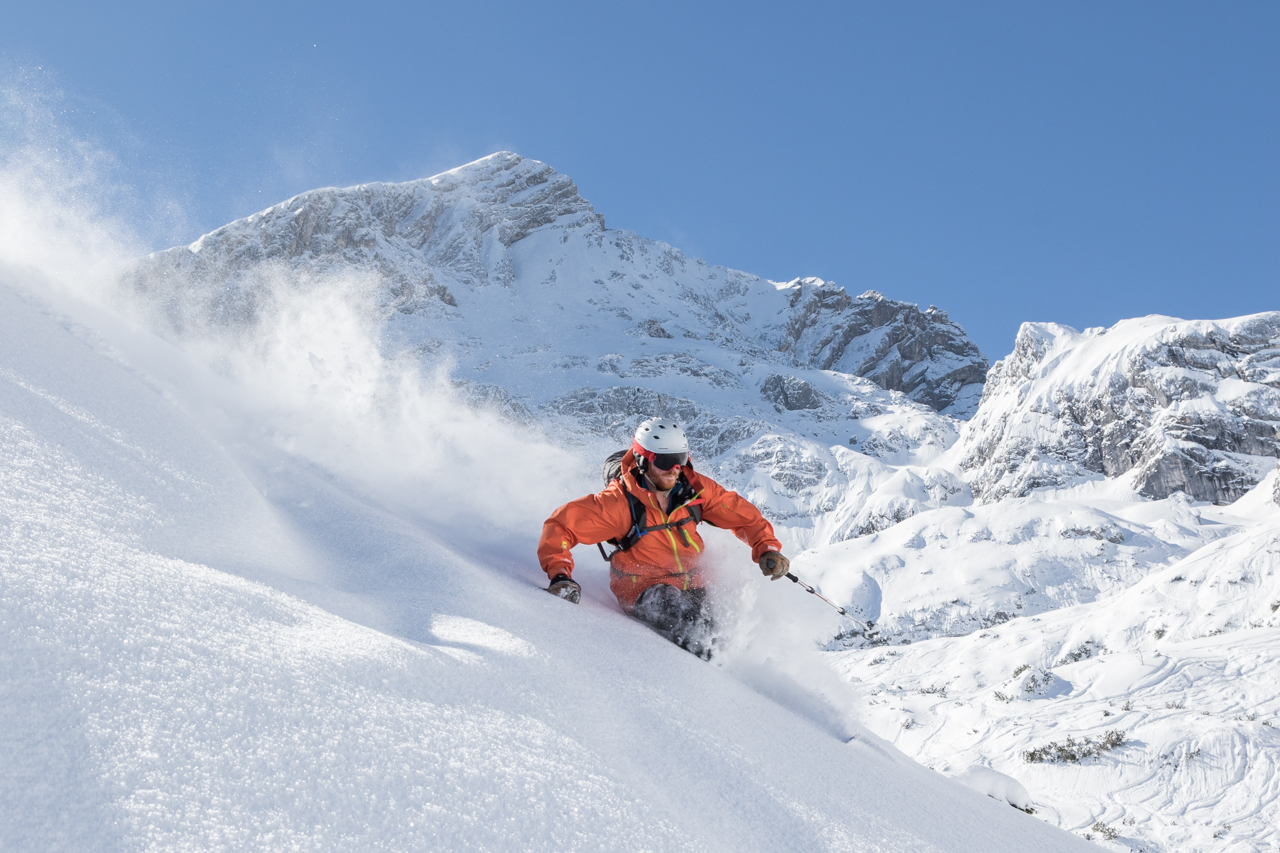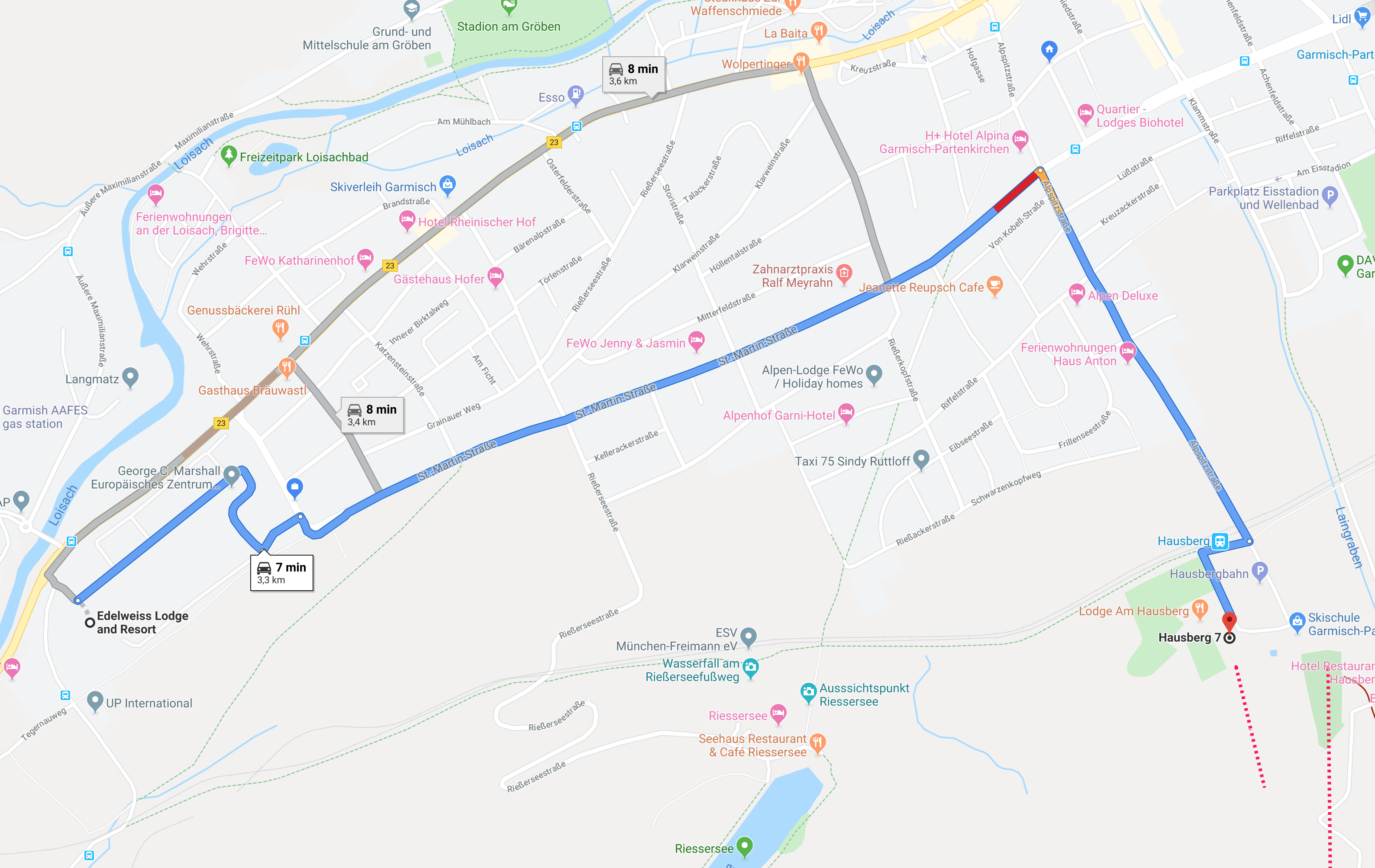 Hausberg Address
Hausberg Sport Lodge
7 am Hausberg
82467 Garmisch-Partenkirchen
Germany
Snowsports Week Prices:
4-Day Program
Adult $405 // Child $325 // Ski Kids (5-7) $325
2-Day Holiday Special (16 - 17 January or 13 - 14 February)
Adult $235 // Child $225 // Ski Kids (5-7) $225
To join a 4-Day Program
Adult 1 day $150 // 2 days $265 // 3 days $365
Child 1 day $130 // 2 days $235 // 3 days $295
Snowsports Week Dates 2020/2021
January 16 - 17 (check-in on Friday, 15 January)

February 13 - 14 (check-in on Friday, 12 February)

February 16 - 19 (check-in on Monday, 15 February)

February 22 - 25 (check-in on Sunday, 21 February)
2 DAY HOLIDAY PROGRAM
Our two-day federal holiday weekend packages are specially priced for Martin Luther King Jr. Day and President's Day. These special prices are only available on the federal holiday weekends. Special activities are also planned on these weekends at the Hausberg Lodge like night skiing, sledding, kids activities and more. Please contact our Vacation Planning Center to reserve.
Adult $225
Child / Ski Kids $215
BEGINNER 1 DAY LESSONS
Uniquely designed for our guests looking to try skiing or snowboarding for the first time. Learn the basic fundamentals at a leisurely pace on our private beginner ski slope. Our certified instructors will take you from equipment introduction to speed control through turn shape. The Beginner Special includes a 4-hour lesson, equipment rental, helmet and a Hausberg Backyard Ski Pass for our private slope. *Lift ticket fee applicable when classes are held on the upper mountain.
One Day Adult / Child / Ski Kids
$125
2 HOUR LESSONS
These 2-hour lessons are designed to focus on specific areas of growth as a rider. You can book these lessons only through the Hausberg Lodge as a private, semi-private or group lesson. We can teach all skill levels and can be especially helpful for experienced riders wanting to get acquainted with the ski area. The two hour lesson does not include equipment or lift tickets to the local mountain. Skiing on our private beginner slope is included for the duration of the lesson. Lessons are subject to instructor availability and may not be confirmed until 0900 on lesson day. Reserve at Hausberg Lodge.
Group (6-12 persons) $49
Semi-Private (2-5 persons) $59
Private (1 person) $99
Just For Ski Kids
Certified instructors teach kids ages 5-7 how to ski on our private slope in a safe and fun environment. Proof of age required. Price includes lunch, equipment and 4 hours instruction. Helmets are required during lessons and are included in package price. They are also available for purchase at the Hausberg Lodge.
Program check in 0900, check out 1500 hours. $125 per child, per day.