Meetings & Groups
The incomparable setting of the Edelweiss Lodge and Resort creates an atmosphere of unique warmth and character conducive to meaningful get-togethers and successful meeting experiences.
We have the space to spread out to ensure you can conduct a productive and safe meeting for your attendees. And with the inspiring Alps as your backdrop, and our attentive staff ensuring it all goes to plan, just imagine what you can accomplish. When you need to huddle up for conferences, training, or any other occasions that call for a crew, we've got just what you need. Our Conference Center and special event venues include more than 17,000 square feet of flexible function space. We have all the leading virus mitigation plans in place to ensure a safe and productive environment so you can focus on the task at hand. Edelweiss Lodge and Resort is a memorable location for galas, unit balls and chaplain events, as well as the most celebrated conference venue in Europe. Our full-service coordinators ensure every event detail is covered from beginning to end. It's all designed to deliver meaningful get-togethers of every stripe.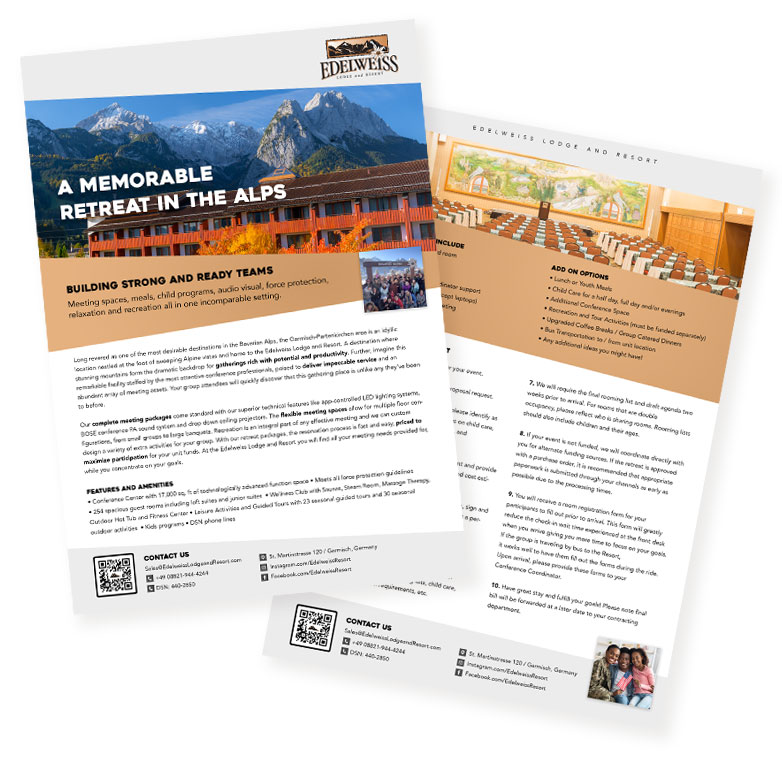 Chaplain Retreats
Your group attendees will quickly discover that this gathering place is unlike any they've been to before. Our complete meeting packages come standard with our superior technical features like app-controlled LED lighting systems, BOSE conference PA sound system and drop-down ceiling projectors. The flexible meeting spaces allow for multiple floor configurations, from small groups to large banquets. With our retreat packages, the reservation process is fast and easy, priced to maximize participation for your unit funds. At the Edelweiss Lodge and Resort you will find all your meeting needs to be provided for, while you concentrate on your goals.
Local Sourced Ingredients
Three Course Menu Options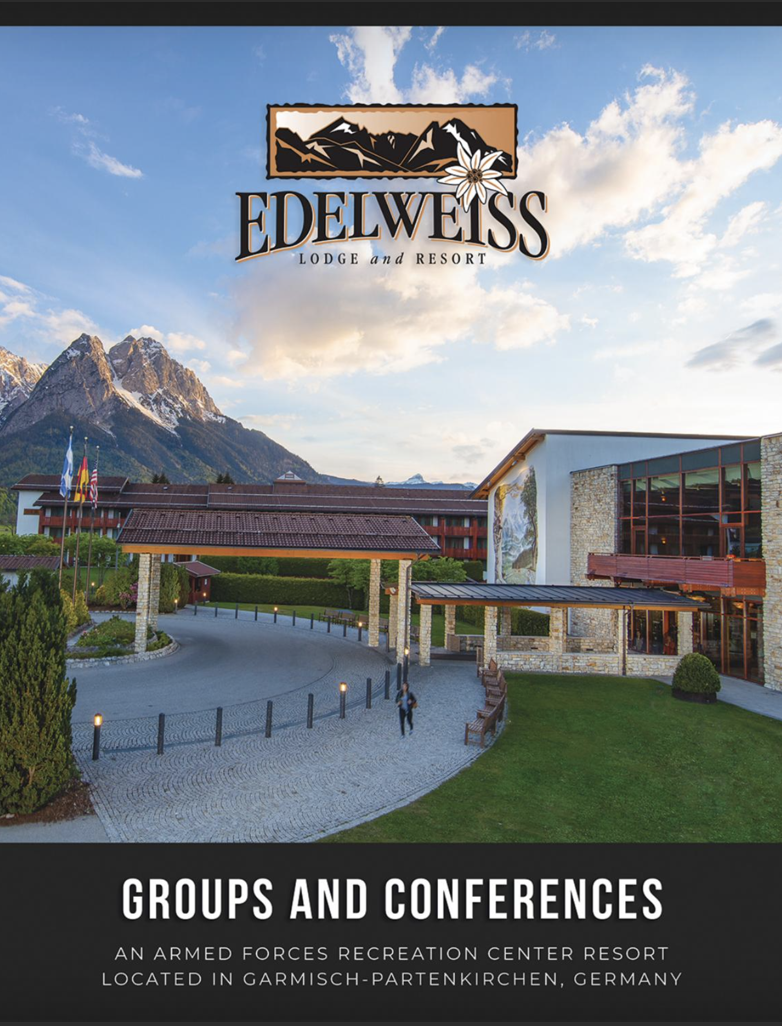 Group and Conferences Brochure
With the inspiring Alps as your backdrop, along with our attentive staff, delicious food, a secure facility and state of the art audio/visual technology, just imagine what you can accomplish. Hosting a conference at Edelweiss Resort, facilitates our ability to provide affordable vacation experiences for service members and their families.
Download our Groups and Conference Planning brochure for an overview of all that we offer at Edelweiss Lodge and Resort for your unit or group.
Airport Shuttle Service
Arriving or departing from Munich airport? Let our team organize a transfer for you and your group and take the hassle out of traveling. With door-to-door service, you can't beat the convenience. A stress-free way to start or end your trip.
• Munich (MUC) airport to or from Edelweiss Resort is $250 one way for up to 4 passengers.
• Valid for up to 4 passengers, $25 extra per passenger (5 - 8 persons).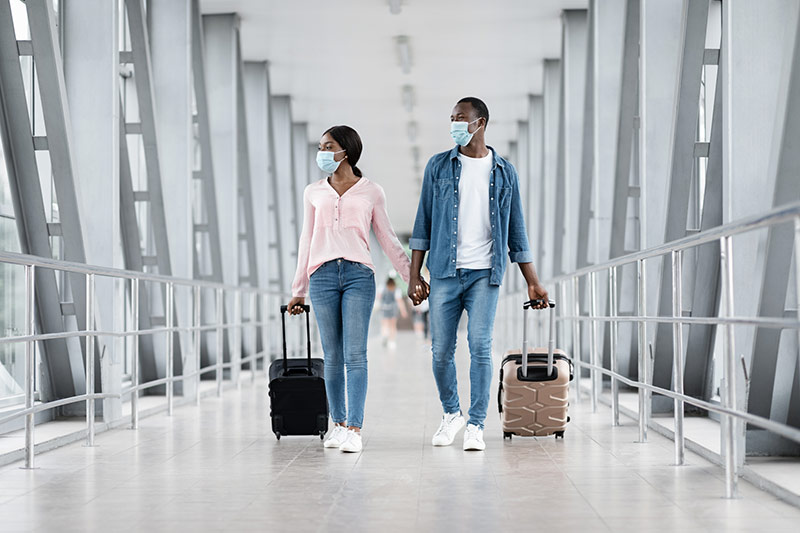 Group Fitness Classes
Get your group together for a workout, yoga session or spin class. The Garmsich Garrison Mueller Fitness Center can help organise an invigorating team building fitness class for your group or conference.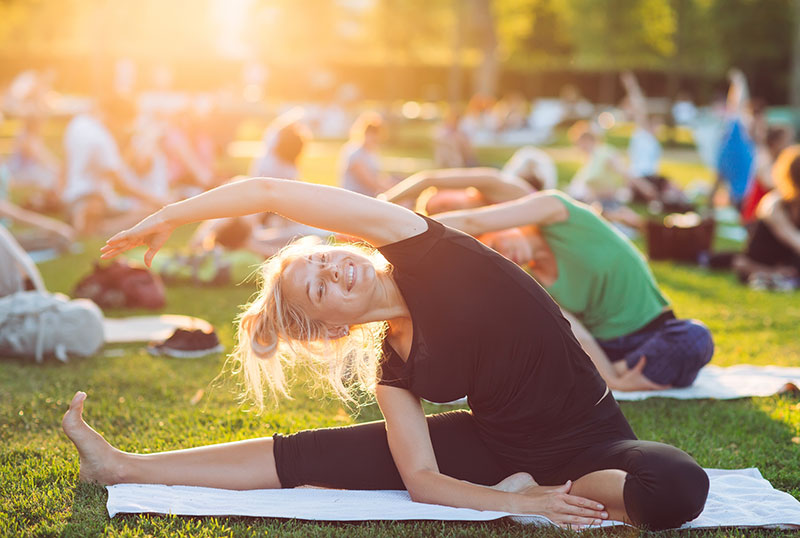 Weddings
If you're thinking of making your I-do's into more of a to-do, we're glad to help. Our event venues can accommodate wedding receptions for family and friends.
Request Information
Request For Proposal :
Please contact our conference and group sales department to start the process on hosting a meeting, event or training at Edelweiss Lodge and Resort.
CIV: +49 08821-944-4245
DSN: 440-2850
Conferences and Groups email