Meetings & Groups
The incomparable setting of the Edelweiss Lodge and Resort creates an atmosphere of unique warmth and character conducive to meaningful get-togethers and successful meeting experiences.
We have the space to spread out to ensure you can conduct a productive and safe meeting for your attendees. And with the inspiring Alps as your backdrop, and our attentive staff ensuring it all goes to plan, just imagine what you can accomplish. When you need to huddle up for conferences, training, or any other occasions that call for a crew, we've got just what you need. Our Conference Center and special event venues include more than 17,000 square feet of flexible function space. We have all the leading virus mitigation plans in place to ensure a safe and productive environment so you can focus on the task at hand. Edelweiss Lodge and Resort is a memorable location for galas, unit balls and chaplain events, as well as the most celebrated conference venue in Europe. Our full-service coordinators ensure every event detail is covered from beginning to end. It's all designed to deliver meaningful get-togethers of every stripe.

Local Sourced Ingredients
Three Course Menu Options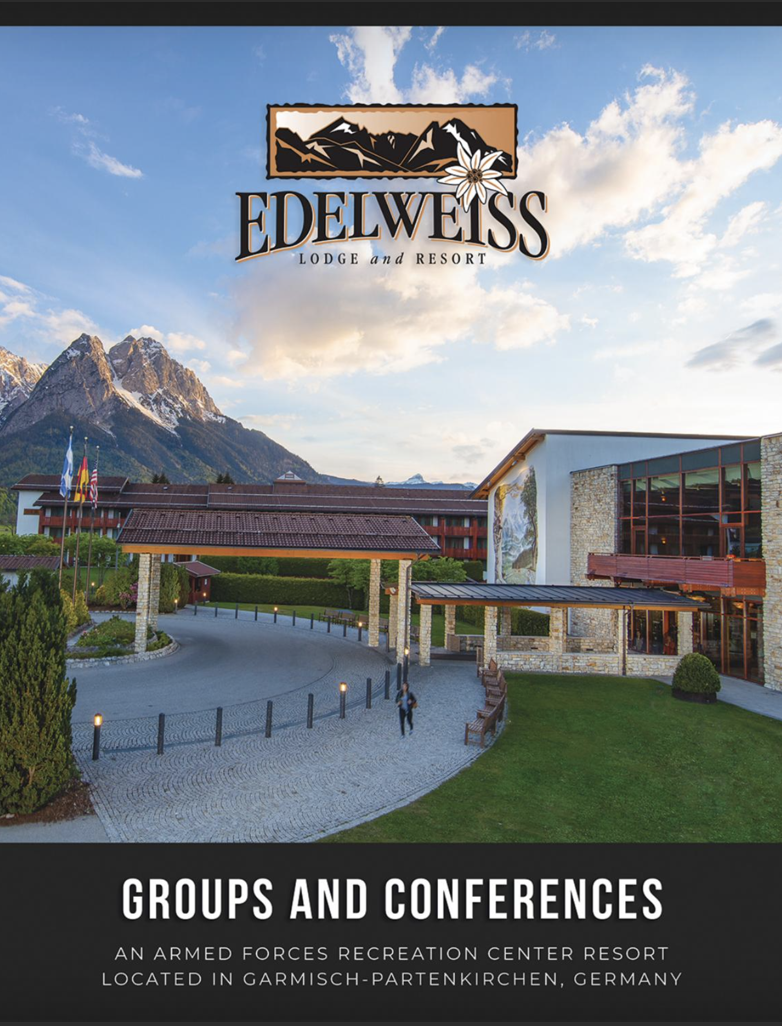 Group and Conferences Brochure
With the inspiring Alps as your backdrop, along with our attentive staff, delicious food, a secure facility and state of the art audio/visual technology, just imagine what you can accomplish. Hosting a conference at Edelweiss Resort, facilitates our ability to provide affordable vacation experiences for service members and their families.
Download our Groups and Conference Planning brochure for an overview of all that we offer at Edelweiss Lodge and Resort for your unit or group.
Weddings
If you're thinking of making your I-do's into more of a to-do, we're glad to help. Our event venues can accommodate wedding ceremonies and receptions in all shapes and sizes. We can connect you with an Alpine photographer that will help you capture some unique wedding photos against beautiful scenery.
Request Information
Request For Proposal :
Sales Director Contact Information
Teresa Hodges
CIV: +49 08821-944-4244
DSN: 440-2850
For help with Conferences and Groups email