On behalf of all the staff, I would like to welcome you to the Edelweiss Lodge and Resort. Our goal is to ensure you and your family have a great vacation experience while doing everything possible to ensure your safety and the safety of our staff. In order to reduce the possibility of contracting and spreading infectious disease, we are requesting that guests adhere to the following infectious disease mitigation measures:

* Sanitize your hands upon entering the hotel and frequently throughout your stay
* If you experience flu-like symptoms, please remain in your room and call the front desk
We appreciate your patience and understanding. These policies are in place to protect the health of your family, our staff and our military. I hope you will find this directory useful and inspire you to take advantage of the many opportunities available to you in the Bavarian Alps. My staff and I are grateful for the many sacrifices you and your family have made on behalf of the United States of America and we are committed to making your stay a memorable one.
At the conclusion of your stay you will be provided a survey via email. I value and appreciate your feedback and will use it to improve our standard of service. Thank you in advance for your comments. I wish you a wonderful vacation experience.
Sincerely,


Brian P. Borda
General Manager, Edelweiss Lodge and Resort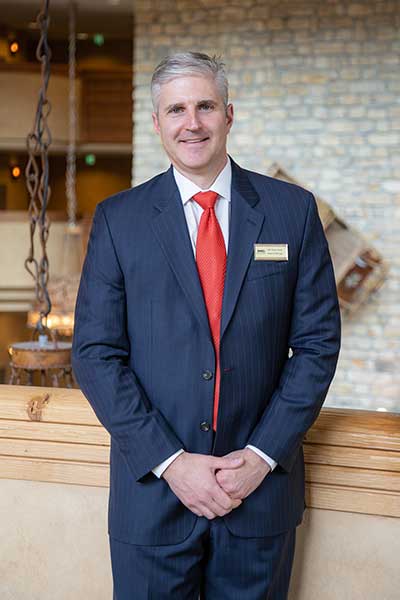 Brian Borda
General Manager
Edelweiss Lodge and Resort
Dining
Join us at one of our restaurants during your stay for great food in a relaxed atmosphere. We serve locally baked bread, locally brewed beer, fresh roasted coffee and cook with herbs fresh from our garden.
Pullman Cafe
Daily 0700 - 2200
Memorial Weekend Schedule
Friday, 27 May; Sunday, 29 May & Monday, 30 May: 0700 - 2200
Saturday, 28 May: 0700 - 2300 (extended hours)
Breakfast Buffet: Daily
Monday—Friday from 0630 to 1000
Saturday—Sunday from 0630 to 1030
Adults $13.50 // Children (ages 5-11) $6 // 4 and under free
Subject to availability
Lunch Buffet: May 18 - 20, 23 - 27; June 7 - 11
Monday—Friday from 1130 to 1300
Saturday—Sunday from 1200 to 1300
Adults $14.50 // Children (ages 5-11) $7 // 4 and under free
Subject to availability
Dinner Buffet: May 21, 27, and 29; June 4, 10 and 11
A la carte Grill open: June 8, 9, 17 - 27
1630 to 2000
Adults $18.50 // Children (ages 5-11) $8 // 4 and under free
Subject to availability
Zuggy's Base Camp
Dinner: Nightly
Sunday - Thursday 1700 - 2100 hours
Friday and Saturday 1700 - 2300 hours
Memorial Weekend Schedule
Friday, 27 May and Sunday, 29 May: 1700 - 2300
Saturday, 28 May: 2000 - 2300
Monday, 30 May: 0700 - 2100
Hungry?
Point Wellness Club
Point Fitness Center
Located in the Lower Lobby. Fitness center is open 24 hours daily. Use your room key to enter the fitness center outside of point wellness desk hours. Massage therapy sessions also available during the times below.
Bike & Mini Golf Rental Hours:
Daily 0800 - 2200
Pool Hours:
Monday - Friday 1200 - 2200
Saturday, Sunday and Holidays 0800 - 2200
Hot Tub Hours:
Daily 0800 - 2200
Adults only in the hot tub: 2030 - 2200
Take a Dip
Phone Numbers
From the hotel dial
Operator, Front Desk 0
Conference Office 4244
Housekeeping 0
Vacation Planning Center 89221
Wake-up calls 0
Market Station 4221
Pullman Cáfe 4224
Zuggy's Base Camp 4230
Alpine Adventures 4142
Hausberg Lodge 4581
Point Wellness Club 4150
Taxi 9+2408
Please specify front or back gate for pickup
Massage
Need a break from it all. Take a relaxing massage from one of our therapist. We suggest coming down to the Point Wellness Club to inquire about our massage availability. Spa treatments are subject to limited availability. It's a good idea to schedule your treatments before you arrive, to ensure you get the access you're after. Get started by filling out a spa treatment request form.
Massages available daily with prior scheduling 0800 - 2200.
Book a Massage
Taxi and Transportation
NEW! Airport Shuttle Service
Door-to-door service provided by our Alpine Adventures team. Start or end your trip with a convenient transfer to or from the airport.
• Munich (MUC) airport to or from Edelweiss Resort is $250 one way for up to 4 passengers. $25 extra per passenger (5 - 8 persons).
Click here for request your airport transfer.

Taxi and Shuttle Services
The Front Desk can assist with a taxi cab or shuttle service to the airport. Reservations should be made well in advance. Taxis will either drop you off at the front entrance or back gate depending on your request. Taxis cars often have to be checked for force protection.
To call a Taxi from your room: 9+2408
Bus Service
The Garmisch bus runs approximately every 20 minutes during the day on weekdays, and approximately every 40 minutes on evenings and weekends. Visit Alpine Adventures for additional information. For long-distance travel, please visit FlixBus.com.
Rental Car
Avis
located on St. Martinstraße:
CIV: 9+93-4242

Europcar
located on St. Martinstraße:
CIV: 9+943-083

Train Services
Trains to and from Garmisch run frequently seven days a week. This convenient form of transportation grants you access to all of Bavaria, Munich and much more. Please visit the Front Desk for further information concerning train service travel. Click here for train information.
Accommodations
Accommodations Upgrade
Why not treat yourself to an upgraded room? Arrange an upgrade to one of our suites by contacting the Front Desk. Suite room rates will apply. (Based on availability)
Check-In / Check-Out / Express Check-Out
• Check-in begins at 1600hrs
• Check-out is by 1100hrs
• Cabin check-out is by 1000hrs
• Dog Rooms check-out is by 1000hrs
• For express check-out, please sign the form at the express check-out box at the Front Desk. Penalties may apply for late check-out.
Comment Cards
How was your stay? Please let us know how we are doing! For your convenience, an
electronic survey will be e-mailed to you shortly after your departure. Complete the survey and be entered to win a five-night stay at an AFRC Resort of your choice!
DSN Phone Services
To make a EUCOM DSN call from your room, use the grey DSN button. To make a DSN call outside of Europe, please contact the front desk for a control number.
DSN Operator: 440 - 1110
Do Not Disturb Policy
If you do not wish to be disturbed, please insert the 'Do Not Disturb' card into the
exterior key hole of your room door. If the card is in the door past 1200 hours, we will not service your room.
Electrical Outlets
Rooms are only equipped with 220v outlets. Dual voltage appliances will work with a simple adapter. Alpine Adventures has adapters for sale. Fire code prohibits cooking of any kind and all cooking appliances in guest rooms, patios and balconies.
Extend Your Stay
Please inquire at the Front Desk.
Front Desk
The Front Desk provides various services and information on a 24-hour basis.
Dial EXT 0 on your room phone.
Housekeeping
Daily housekeeping is available until 1600 hours. For special services (extra towels, pillows, blankets, etc.) please contact the Front Desk. To save Earth's valuable resources, please insert the 'Please do not service my room' green card into the exterior keyhole of your room door.
Ice and Vending Machines
Ice and Vending machines are located on the 2nd and 3rd floor in the main corridor. Visit Alpine Adventures for convenience items like toothpaste, etc.
Lost and Found
Please visit the Front Desk or fill out a lost and found form. Click here >
Military Fitness Run
A route map and reflective vests are available at the Front Desk.
Phone Services
The charge for outside phone calls is 40¢ per minute. Please note that 1-800 numbers are not free of charge overseas. All phone numbers preceded by 9+ will be directly billed to your room.
Reservations
For future reservations, please contact the Vacation Planning Center
Monday - Friday 0800 - 1700hrs at (49) 08821-9440, or book online here.
Television
For a listing of AFN and German channels, please select the 'LIST' button on your TV remote.
Valuables
Each room contains a safe in the wall closet. Please secure all valuables. If you require assistance with your safe, please call security at EXT 4301. Upon departure,
please leave your safe door OPEN.
Voicemail
A red blinking light on your phone indicates that you have a voicemail. Retrieve voicemail by selecting the grey button.
Wake Up calls
Please dial EXT 0 from your room phone.
Wireless Internet
Complimentary wireless internet is available. Connect to the "ELR Wifi" wireless network. There is no password required.
Back Pedestrian Gate
Open daily 0600 - 2200hrs.
During federal holiday weekends, the back gate might be open later.
Guided Tours
Edelweiss Lodge and Resort is just 56 miles from Munich and 34 miles from Innsbruck. Take a tour with our experienced guides to learn about the history of this fascinating area. Our Alpine Adventures staff have put together an incredible mix of tours that capture the culture, scenery and history of the area. You could spend over a week here and never go on the same tour. Our English-speaking tour guides get you to all the can't-miss spots.

Click here to see our Vacation Guide full of vacation ideas, guided tours, skiing, snowboarding and more!
See it all!
Resort Activities
Credit Cards
All major credit cards are accepted including the Chase MWR card and Military Star card. The Military Star Card gives you points during your stay. We can only accept the card at the front desk. It is advised to sign your charges to your room and do one charge at check out. If you don't have a Military Star Card, you can apply for one (get immediately approved) and take 10% off your first day (or entire stay) purchase at check out. https://www.myecp.com/
Expeditions Casino
Find the casino excitement located in the lower lobby. Adults can enjoy an array of slot machines 24/7. Must be 18 years old to enter the casino.
Free DVD & Book Usage Program
Feel free to borrow from our collection of DVDs and Books located on the first floor in the Media Center near Room 1051.
Internet Services
Complimentary internet stations are located on the first floor in the Media Center near room 1051. Printer and CAC capabilities are available.
Laundry Machines
Coin-operated machines are located in the lower lobby. Change machine and laundry detergent is available to purchase.
Mail Services
All guests can utilize the mail dropbox, located in the main lobby near the front entrance. Postage can be purchased at Alpine Adventures. We do not mail packages. We cannot accept packages mailed to Edelweiss Lodge and Resort for force protection reasons.
Newspapers
Unfortunately, the Stars and Stripes have stopped distribution to Garmisch.
Parking Spaces
Parking is available in either the above ground parking lot or underground parking garage. Please do not park in the main entrance circle. Numbered parking spaces in our underground parking garage do not correspond with your room number.
Weather
Daily weather information can be found at the Front Desk. Please be prepared for changing weather conditions. Click here for weather.
Garmisch Community Services
Service below might be limited due to Coronavirus, please visit the Service & Closures website below.
Click Here
Alcoholics Anonymous (AA)
Contact Army Community Service for weekly schedule.
Website
Army Community Service
Bldg 203
For all your on-post and local area information and referral needs.
DSN: 440 - 3777
CIV: 9+750-3777
Banking
Service Credit Union and Community Bank (for US Card holders only).
Both Service Credit Union and Community Bank offer ATM services in the main lobby of Edelweiss Resort.
Service Credit Union: Bldg 9901
DSN: 440 - 3373
CIV: 9+730-3600
Tuesday - Saturday 0900 - 1700hrs
Website

Community Bank: Bldg 212
DSN: 440 - 3619
CIV: 9+93-430
Monday - Friday 0900 - 1600hrs
Website
Child Care
BMC Child Development Center
For children ages 6 weeks to 5 years old available at the Garmisch Child Development Center, located next to the Edelweiss Resort Vacation Village.
Required: Reservations & immunization records.
DSN: 440 - 2684
CIV: 9+750-2684
Hours: Mon - Fri 0830 - 1630hrs for hourly care / Closed Holidays / Open some Friday nights and weekends
Call to check hours
Website
BMC Middle School / Youth Center
Let the fun begin! Computer lab, game room, music room, basketball court, video games, ping pong & pool tables, a juke box and plenty of space to hang out. Teens are also welcome to participate in our field trips.
DSN: 440 - 2654
CIV: 9+750-2654
Hours: Open Daily 1430 - 1800 hrs
Website
Commissary, Exchange Shopping Center
Limited to authorized users only.
DSN: 440 - 3587
CIV: 9+90-8997
Website
Community Center, Pete Burke, Bldg 725
Offers educational, cultural, recreational, and social programs and activities.
DSN: 440 - 2467
CIV: 9+750-2467
Gasoline / Fuel
Bldg 218
There is an Exchange gas station located on the Artillery Kaserne. However, it does not offer diesel fuel. An Esso gas station is located on Zugspitstraße. To reach the Esso, leave the resort and take a left. At the first light take a right. The gas station is located on your left just after the next stoplight.

Exchange Gas Station:
CIV: 9+909-838
Gas Station Hours: Tuesday - Saturday 1030 - 1730
ID Cards & Passports
Bldg 203
DSN: 440 - 3737
CIV: 9+750-3737
Website
Installation Access Control Office
Bldg 203
DSN: 440 - 3558
CIV: 9+750-3558
Website
Library
Bldg 725
DSN: 440 - 2467
CIV: 9+750-2467
Website
Military & Family Life Consultant
Bldg 203
Completely confidential, a licensed professional is available to assist with short-term concerns in the areas of family, separations, anger, stress, financial, and marital issues.
Consultant Cell: +49 (0) 151-419-96390
DSN: 440 - 3755
email: summersk@magellanfederal.com
Post Office (APO)
Bldg 251
Outgoing: DSN: 440 - 3713
CIV: 9+750-3713
Pick-Up: DSN: 440 - 3535
CIV: 9+750-3535
Internal mail service is available, see Mail Services.
Website

The Exchange Facilities
Bldg 204
Limited to authorized users only.
DSN: 440 - 3455
CIV: 9+966-7414
Website
Exchange Hours: Tuesday - Saturday 1030 - 1730
Thrift Shop
Bldg 212
DSN: 440 - 3552
CIV: 9+750-3552
Mueller Fitness Center
Bldg 119
DSN: 440 - 2747
CIV: 9+750-2747
Website
Pedestrian Back Gate Hours
Daily 0600 - 2200hrs. During federal holiday weekends, the back gate might be open later.
Religious Services
Bldg 127
Reached on foot by exiting the Resort via the pedestrian exit at the back of the main lobby and turn right. The Post Chapel is on the right.
DSN: 440 - 2540
CIV: 9+750-2540
VAT Tax Office
Bldg 203
DSN: 440 - 3711
CIV: 9+750-3711
Website
Bike Rental
Our new E-bikes are simply a great time to ride without the lung-busting effort to get a normal bike up the surrounding hills. Bike rental is available at the Point Wellness Club. Ask us about what bike trails might work best for you and your family.
Let's Cruise
Emergency
Security
For security-related issues please call Edelweiss Resort Security at EXT 4301.
Telephone 08821-944-4301
Emergency Facilities
There are no American Medical facilities.
Klinikum Garmisch (clinic)
CIV: 9+770
Unfall Krankenhaus Murnau (hospital)
CIV: 9+08841+480
First Aid
In the event of an emergency, please dial EXT 0 or EXT 4301 and the Front Desk will assist in locating the appropriate medical services.
SARC - Sexual Assault Response Coordinator
Available 24/7
Cell: 9+0162-265-2875
CIV: +49 (0) 9641-83-4567
TRICARE
You should only seek medical care if you need urgent or emergency medical attention. If you need urgent care, you may contact International SOS for assistance.
International SOS: 00-44-20-876-28384 (local)
0800-589-1599 (toll free)
Souvenir Store
Looking for a unique souvenir or the perfect gift to treasure your time spent at Edelweiss Lodge and Resort? We've got you covered with some of the most popular Alpine Adventures souvenirs.
Souvenirs
Hiking
Riesersee
Length: 2-3 hours / Difficulty: Easy - Medium / Take a short hike from Edelweiss Resort to the Riessersee. Here you can enjoy a quiet lakeside stroll soaking in stunning views of the Alpspitze. You can also explore the bobsled track from the 1936 winter Olympic Games. Food and drink are sometimes available.
War Memorial
Length: 1.5-2 hours / Difficulty: Easy - Medium / Take a 45-minute hike from Edelweiss Resort to a German WWII War Memorial. From there you can enjoy a beautiful view of the city of Garmisch-Partenkirchen. If you're still not tired you can continue hiking towards St. Martin's Hutte (see below).
St. Martin's Hutte
Length: 4 hours / Difficulty: Medium / Take a 2-hour hike up the Kramerspitz to St. Martin's Hutte. The path was originally used by Bavarian King Maximilian II as a hunting route. From the hut, you will enjoy a wonderful view of the Garmisch valley as well as the Zugspitze and Wetterstein mountain ranges. Food and drink are sometimes available. Cash only.
Tannenhutte
Length: 1-2 hours / Difficulty: Easy-Medium / Park in a lot past the Florianplatz in Partenkirchen. Follow signs toward the Tannenhutte, a pleasant 45-minute uphill walk mostly through the forest. Check out the nearby suspension bridge. Food and drink are sometimes available. Cash only.
Werdenfels Ruins / Pflegersee
​​​​​Length: 1-2 hours / Difficulty: Easy-Medium / Park at the base of a trailhead next to the Plegersee. Take a short hike to the Werdenfels Castle ruins that date back to the 1300s.
Eibsee
​​​​​​Length: 3-4 hours / Difficulty: Easy-Medium / Drive to the Eibsee and park in any of the pay lots. Start hiking counter-clock around the lake for immediate breathtaking views. Food and drink are sometimes available. Cash only.
Alpental Golf
Hit the links for a little family-friendly competition while on vacation. Head down to the Point Wellness Club to pay your green fees and get your club and ball.

Year-Round Activity - Open during daylight hours
Adults $5
Children (15 and under) $3
Green fee valid for 18 holes. Please return clubs immediately after completing your round. No groups larger than 6 per hole. Children 14 and under need parental supervision (USAREUR Regulation). There is a 10 stroke maximum on each hole. Ball out of bounds is replaced at point of exit with one stroke penalty. No skipping holes. Be careful and watch your step. No running. No foul language. Do not swing putter above the knees. Please return your putter and ball immediately after finishing. No glass bottles. No dogs.
Friendly Competition
Local Restaurants
Bakeries within walking distance

Bäckerei Dünzinger
08821 - 2158 / Zugspitzstraße 112
(Mon - Fri 0500 - 1230 and 1400 - 1800 / Sat 0500 - 1300 / Sun 0700 - 1100)
Cafe Rühl: 08821-56315 / Zugspitzstraße 106
(Tues - Sat 0630 - 1800 / Sun 0730 - 1700)

Garmisch Restaurant Delivery Information
*No Federal endorsement implied.
Colesseo (Italian): 08821-52809 (Daily 1200 - 1400 and 1700 - 2200)
La Baita (Italian): 08821-78777 (Daily 1130 - 1430 and 1730 - 2200)
Puoro Pizza (Italian): 08821-7321108 (Mon - Fri 1700 - 2200 / Sat & Sun 1600 - 2200)
Pizza Hut (American): 08821-949192 (Daily 1500 - 2130)
Shaka Burger (American): 08821-7540885 (Daily 1100 - 2000)
Bollywood (Indian): 08821-9672196 (Daily 1130 - 1430 and 1700 - 2300)
Taj Mahal (Indian): 08821-9436430 (Daily 1130 - 1430 and 1700 - 2300)
Gondolas / Mountain Lifts
Lift tickets are available at Alpine Adventures for the surrounding mountain cable cars. Go for a beautiful hike, end up at a hut and enjoy the fresh air of the Alps. Below are some of the popular lifts to get you to amazing places.
• Zugspitze
• Osterfelderbahn (Alpspitze)
• Kreuzeck
• Wank
• Eckbauerbahn
Kids Programs
We know how to provide kids a great time through encouragement, education, exploration and achievement. Bavaria offers an excellent playground of activities for kids to discover the joy of learning a new activity and culture.
Let's Play
Smoking Policy
The Edelweiss Lodge and Resort is a non-smoking facility. In accordance with Army Regulation 600-63, the smoking of tobacco products (to include cigarettes, cigars, cigarillos, smokeless tobacco and / or electronic cigarettes, inhaled tobacco and all other tobacco products designed for human consumption) is prohibited in all interior space owned by the executive branch of the Federal Government. Smoking is also not allowed within 50 feet of the building which includes the guest room patios and balconies.
E-cigarettes can trigger fire alarms. We strongly suggest you do not leave these in your room unattended while they are charging. You will be responsible for any cost incurred for a false fire alarm should your room be the source of the alarm. No flammable objects are allowed in the Resort to include candles, matches and fireworks.
Fire code prohibits cooking of any kind and all cooking appliances in guest rooms, patios and balconies.
Dog Policy
Dogs are restricted from being in any guest common area which includes the main lobby, restaurants, wellness club and any hallway not directly outside the dedicated dog room corridor. Dogs are required to be on a leash at all times. Dogs and owners must use the separate dog entrance to access guest rooms. Dogs are not permitted on guided tours or Alpine Adventures activities. Dogs are required to be in a dog carrier (cage) if left in room unattended to prevent damage. Please clean up after your dog in the designated outside dog area. A $150 safety deposit will be charged to the guest's account for damage or any disturbance to other guests, which includes but is not limited to excessive barking.
Dog Rooms
In Room Television Channel Guide
1. Edelweiss Resort Information
2. Edelweiss Resort Information
3. AFN Prime Atlantic
4. AFN Pulse
5. AFN Prime Pacific
6. AFN Spectrum
7. AFN News
8. AFN Movie
9. AFN Sport
10. AFN Sport 2
11. BBC World
12. CNN
13. NHK World Japan
14. CNBC
15. DW
16. Aljazeera
17. Sky News
18. Bloomberg
19. Sonlife Broadcasting
20. Das Erste
21. ZDF
22. BR Fernsehen Süd
23. SWR RP
24. NDR FS HH
25. WDR
26. RTL
27. Pro Sieben
28. SAT. 1
29. Kabel Eins
30. SIXX
31. SAT.1 Gold
32. VOX
33. NITRO
34. Tele 5
35. VOXup
36. RTLup
37. ZDF neo
38. Disney Channel
39. Super RTL
40. Toggo Plus
41. KiKA
42. RTL2
43. Pro Sieben Maxx
44. Comedy Central
45. Nick Comedy Central +1
46. Sport 1
47. Eurosport 1 Deutschland
48. ARTE
49. 3 Sat
50. N24 DOKU
51. ZDF Info
52. Pheonix
53. Euronews German
54. Kabel eins DOKU
55. NTV
56. Welt
57. MTV
58. TLC
59. DMAX
60. Deluxe Music
61. Servus TV DE HD
62. Klassik Radio
63. Ego FM
64. Jam Radio
65. RTL Radio
66. Toggo Radio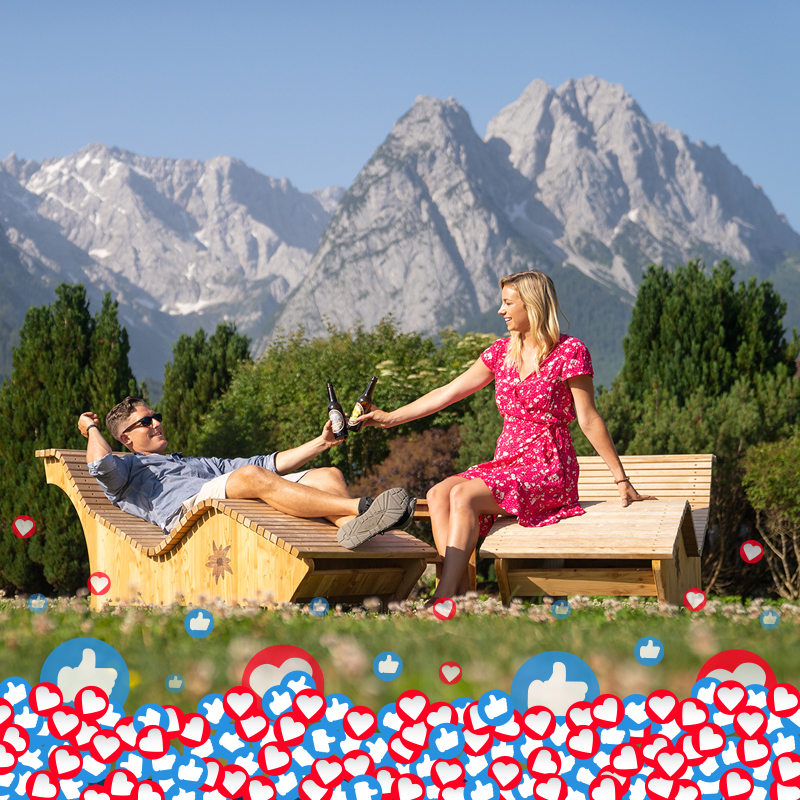 Connect with Us!
Remind yourself of a great vacation and follow us at #EdelweissResort on Facebook, Instagram or Youtube. Be the first to know about specials, deals and see great photos from the area to spark your imagination.