On behalf of all the staff, I would like to welcome you to the Edelweiss Lodge and Resort. Our goal is to ensure you and your family have a great vacation experience while doing everything possible to ensure your safety and the safety of our staff. In order to reduce the possibility of contracting and spreading infectious disease, we are requesting that guests adhere to the following infectious disease mitigation measures:

* Sanitize your hands upon entering the hotel and frequently throughout your stay
* Vaccinated guests are not required to wear a mask
* Unvaccinated guests, please wear a mask when moving through the common areas
* If you experience flu-like symptoms, please remain in your room and call the front desk
* Adhere to physical distancing guidelines of at least 6 feet
* No more than one family per elevator
* Use the express check out option available at the front desk
We appreciate your patience and understanding. These policies are in place to protect the health of your family, our staff and our military. I hope you will find this directory useful and inspire you to take advantage of the many opportunities available to you in the Bavarian Alps. My staff and I are grateful for the many sacrifices you and your family have made on behalf of the United States of America and we are committed to making your stay a memorable one.
At the conclusion of your stay you will be provided a survey via email. I value and appreciate your feedback and will use it to improve our standard of service. Thank you in advance for your comments. I wish you a wonderful vacation experience.
Sincerely,


Brian P. Borda
General Manager, Edelweiss Lodge and Resort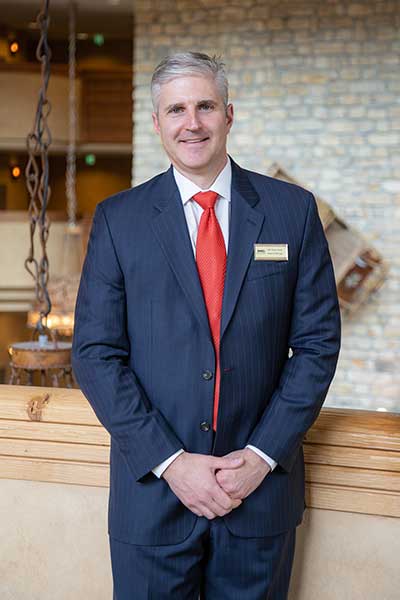 Brian Borda
General Manager
Edelweiss Lodge and Resort
Phone Numbers
From the hotel dial
Alpine Adventures 4142
Conference Office 4244
Hausberg Lodge 4581
Housekeeping 0
Market Station 4221
Operator, Front Desk 0
Pullman Cáfe 4224
Point Wellness Club 4150
Vacation Planning Center 89221
Wake-up calls 0
Zuggy's Base Camp 4230

Taxi 9+2408
Please specify front or back gate for pickup
Smoking Policy
The Edelweiss Lodge and Resort is a non-smoking facility. In accordance with Army Regulation 600-63, the smoking of tobacco products (to include cigarettes, cigars, cigarillos, smokeless tobacco and / or electronic cigarettes, inhaled tobacco and all other tobacco products designed for human consumption) is prohibited in all interior space owned by the executive branch of the Federal Government. Smoking is also not allowed within 50 feet of the building which includes the guest room patios and balconies.
E-cigarettes can trigger fire alarms. We strongly suggest you do not leave these in your room unattended while they are charging. You will be responsible for any cost incurred for a false fire alarm should your room be the source of the alarm. No flammable objects are allowed in the Resort to include candles, matches and fireworks.
Fire code prohibits cooking of any kind and all cooking appliances in guest rooms, patios and balconies.

Dog Policy
Dogs are required to be on a leash at all times. Dogs and owners must use the separate dog entrance to access guest rooms. Dogs are restricted from being in any guest common area which includes the main lobby, restaurants, wellness club and any hallway not directly outside the dedicated dog room corridor. Dogs are not permitted on guided tours or Alpine Adventures activities. Dogs are required to be in a dog carrier (cage) if left in room unattended to prevent damage. Please clean up after your dog in the designated outside dog area. A $150 safety deposit will be charged to the guest's account for damage or any disturbance to other guests, which includes but is not limited to excessive barking.
Pedestrian Back Gate
Open daily 0600 - 2200hrs.
During federal holiday weekends the back gate might be open later.
Dining
Join us at our Pullman Place restaurant open 0700 - 2000 hours. The menu changes daily. We offer full plated meals, along with a la carte made to order dishes and grab and go items.
Hungry?
Alpental Golf
Hit the links for a little family-friendly competition while on vacation. Head down to the Point Wellness Club to pay your green fees and get your club and ball.
Friendly Competition
Massage
Need a break from it all. Take a relaxing massage from one of our therapist. We suggest coming down to the Point Wellness Club to inquire about our massage availability.
Book a Massage
Guided Tours
Edelweiss Lodge and Resort is just 56 miles from Munich and 34 miles from Innsbruck. Take a tour with our experienced guides to learn about the history of this fascinating area.
Go Beyond Sightseeing
Souvenirs
Looking for a unique souvenir or the perfect gift to treasure your time spent at Edelweiss Lodge and Resort? We've got you covered with some of the most popular Alpine Adventures souvenirs.
Keepsakes
Bike Rental
Our new E-bikes are simply a great time to ride without the lung-busting effort to get a normal bike up the surrounding hills. Bike rental available at the Point Wellness Club. Ask us about what bike trails might work best for you.ge and Resort? We've got you covered with some of the most popular Alpine Adventures souvenirs.
Go Cruising
Zuggy's Base Camp
This cozy, mountain-style alehouse bistro looks forged from the great outdoors. It's rustic, rawhide and rugged, and has just th
Currently Closed
Zugspitze
Lift tickets are available at Alpine Adventures for the surrounding mountain cable cars. Go for a beautiful hike, end up at a hut and enjoy the fresh air of the Alps.
The Best Views
Tandem Paragliding
One of our favorite contract activities in the valley. Take the gondola up and fly with an experienced pilot high above Garmisch for a birds eye view. Visit Alpine Adventures to inquire about a flight.
Fly Above Garmisch
Kids Programs
We know how to provide kids a great time through encouragement, education, exploration and achievement. Bavaria offers an excellent playground of activities for kids to discover the joy of learning a new activity and culture.
Just For Kids
Weather
You can expect all types of weather in the Alps on any given day. From sunshine to rain showers. It is best to be prepared for changing weather no matter the forecast.
Rain or Shine?
Connect with Us!
Remind yourself of a great vacation and follow us at #EdelweissResort on Facebook, Instagram or Youtube. Be the first to know about specials, deals and see great photos from the area to spark your imagination.
Connect with Us!