Meeting Spaces
Flexible and functional, our Conference Center and event venues are designed to accommodate a range of groups, settings and occasions. Whether you're planning a small gathering of 20, or a larger event, you'll work with a conference coordinator who will secure all the details. With space to spread out, your group meeting will be safe and productive. The flexible meeting spaces allow for multiple floor configurations, from small groups to large banquets, with acoustic-absorbing walls for private and secure meetings. While closed we installed new carpet and made a lot of improvements to the facility.
Built to International Association of Conference Center (IACC) standards, Edelweiss Lodge and Resort conference facilities are the standard by which others are judged. Our meeting facilities are equipped with built-in projectors, drop-down screens, fully equipped audio/visual technology systems, high-speed Internet access and remote lighting.
Conference Planning Brochure
Get inspired to have a productive meeting in the Alps.
Full Screen View
General Patton Grand Ballroom
The General Patton Grand Ballroom is your best venue for medium and large gatherings. Accessed from the main level, the Grand Ballroom can also be split into three equal-sized rooms, and can be arranged in various configurations depending on how you need it to lay out. It also leads onto an event terrace with splendid views of the Alpine scenery.
Request for Proposal
Berchtesgaden and Chiemsee Salons
The General Von Steuben Salon proudly plays host to more modestly sized events. Accessed from the main level, this Salon can be split into four equal-sized rooms and arranged in various configurations to fit your needs.
Request for Proposal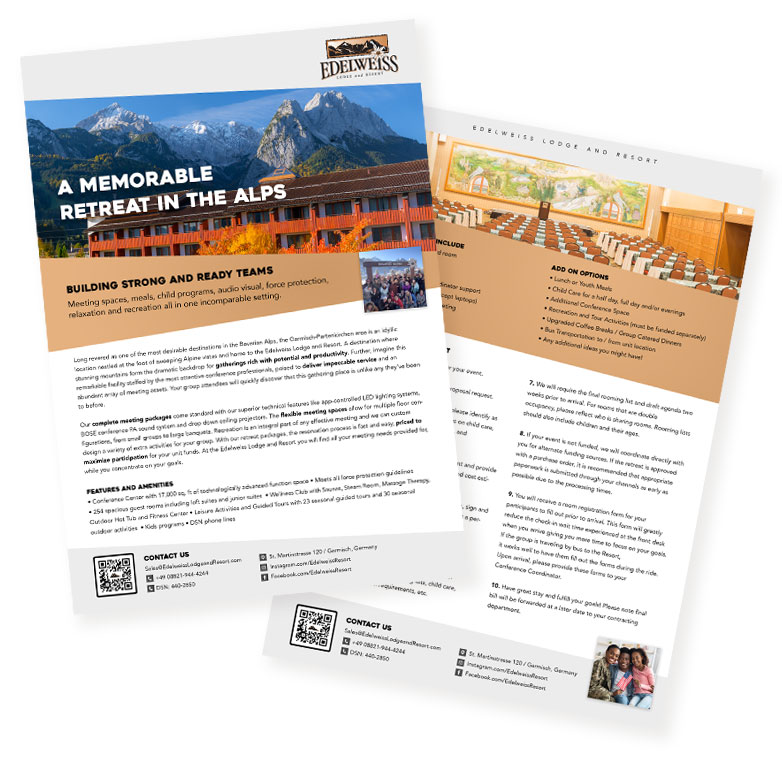 Chaplain Retreats
Your group attendees will quickly discover that this gathering place is unlike any they've been to before. Our complete meeting packages come standard with our superior technical features like app-controlled LED lighting systems, BOSE conference PA sound system and drop-down ceiling projectors. The flexible meeting spaces allow for multiple floor configurations, from small groups to large banquets. With our retreat packages, the reservation process is fast and easy, priced to maximize participation for your unit funds. At the Edelweiss Lodge and Resort you will find all your meeting needs to be provided for, while you concentrate on your goals.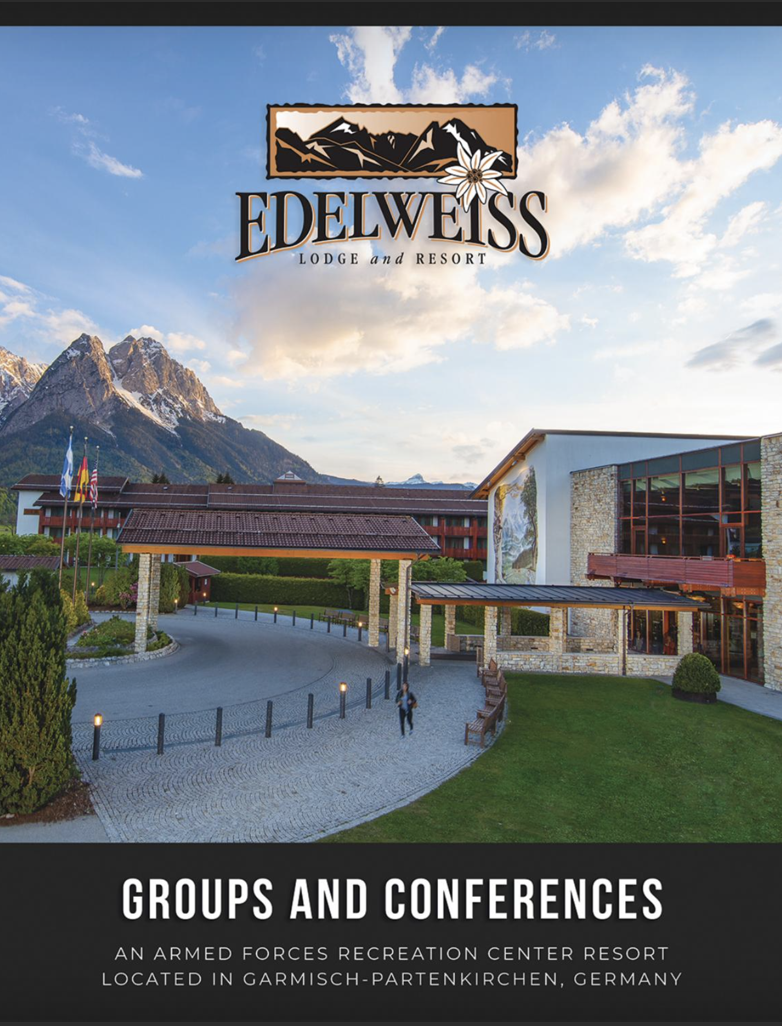 Group and Conferences Brochure
With the inspiring Alps as your backdrop, along with our attentive staff, delicious food, a secure facility and state of the art audio/visual technology, just imagine what you can accomplish. Hosting a conference at Edelweiss Resort, facilitates our ability to provide affordable vacation experiences for service members and their families.
Download our Groups and Conference Planning brochure for an overview of all that we offer at Edelweiss Lodge and Resort for your unit or group.
Airport Transfer Service
Arriving or departing from Munich airport? Let our team organize a transfer for you and your group and take the hassle out of traveling. With door-to-door service, you can't beat the convenience. A stress-free way to start or end your trip. Strongly recommended reserving your transfer ten days in advance.
• Munich (MUC) airport for $250 one way for up to 4 passengers.
• Up to 4 passengers, $25 extra per passenger (5 - 8 persons).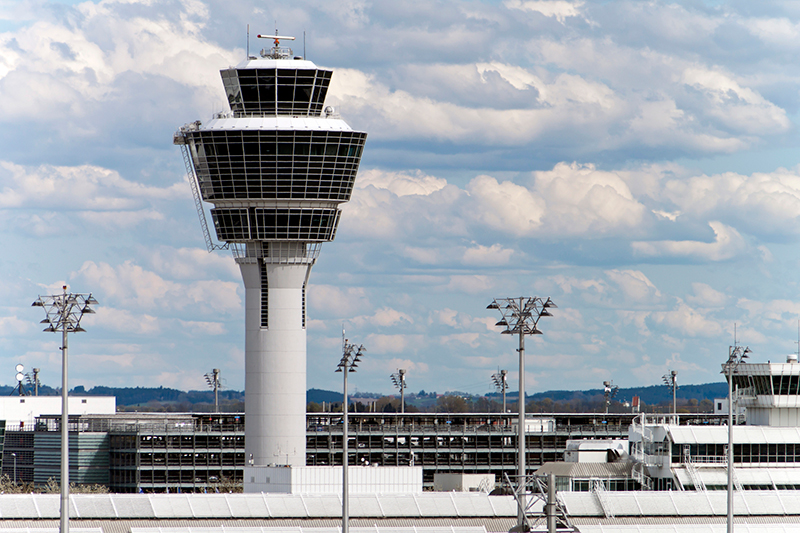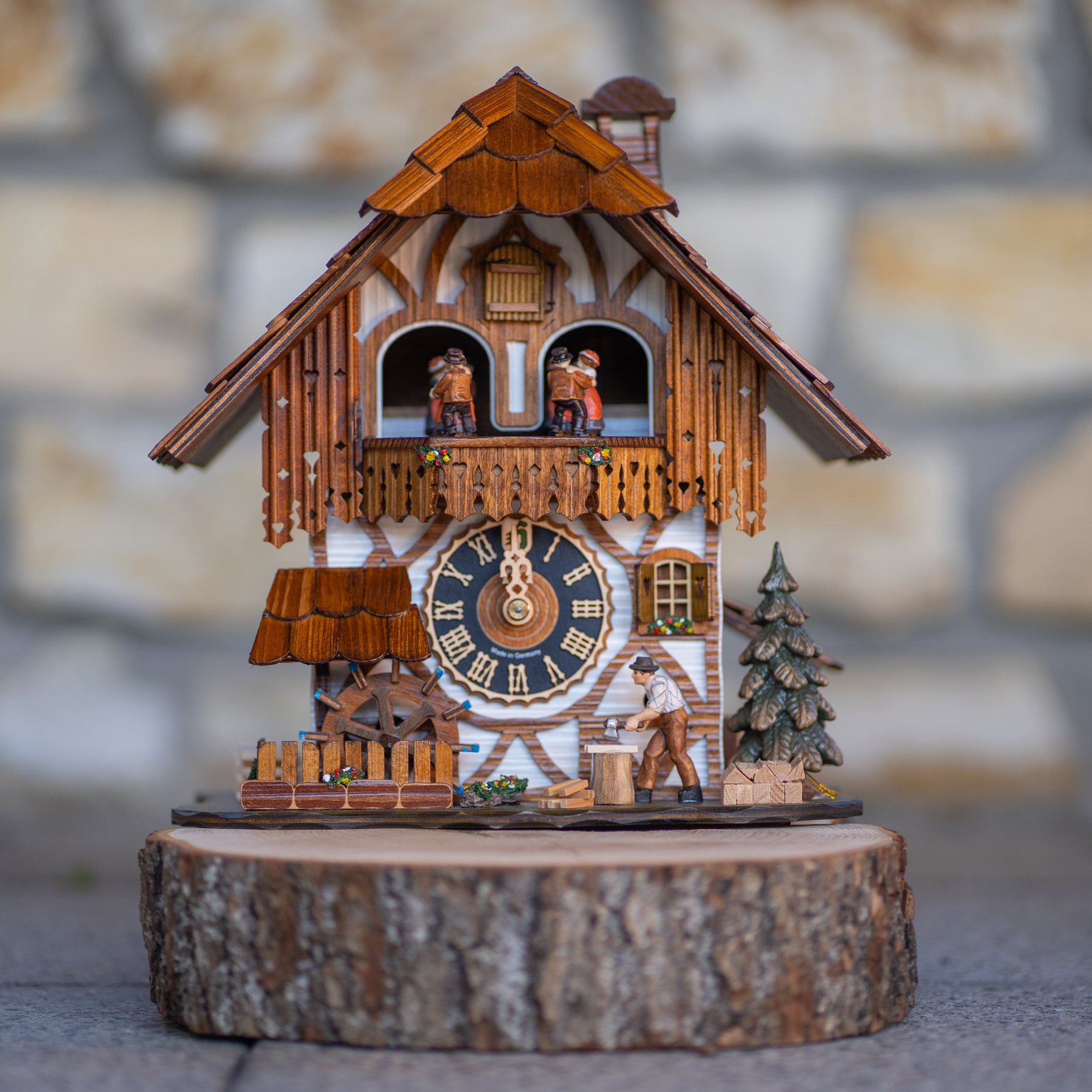 Souvenir Online Gift Store
Looking for a unique souvenir or the perfect gift to treasure your time spent at Edelweiss Lodge and Resort? We've got you covered with some of the most popular Alpine Adventures souvenirs.