Sleep under the stars
Get even closer to starry nights and clean mountain air when you stay at our Campground. You can still check-in at Edelweiss Lodge and Resort, and campsites are across the way on nearby Artillery Kaserne. You'll find large campsites with access to private showers, restrooms, and laundry facilities. Bring your RV or pitch a tent. Plus, it's easy to access Edelweiss Lodge and Resort for resort-style amenities like our pool or restaurants. A pedestrian access gate is open from 6:00 a.m. to 10:00 p.m. and usually 12:00 a.m. on holiday weekends. With all these amenities, it is hardly called roughing it.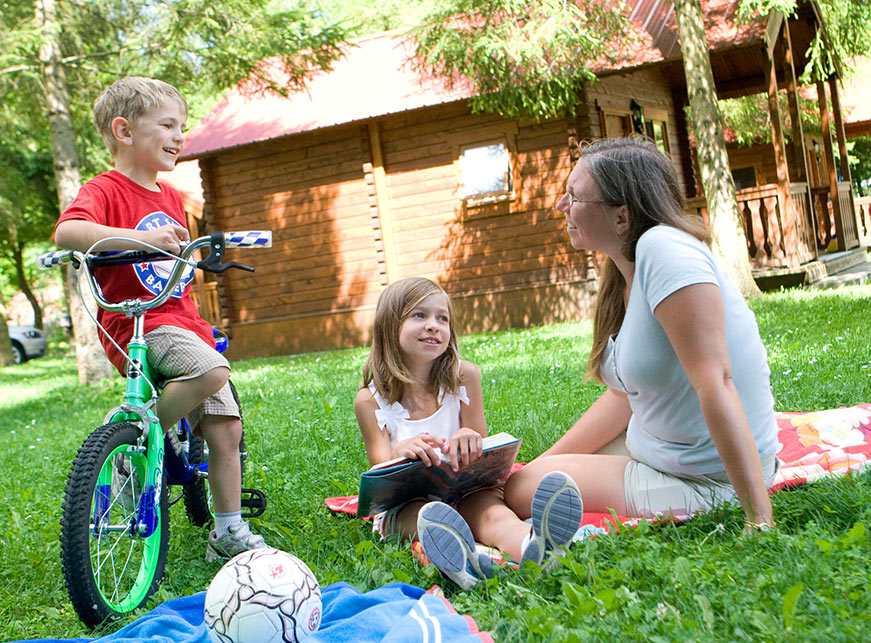 Price
All ranks $50 per site (two adults). Rates are for up to four persons per tent or trailer, additional persons will be charged. Includes access to the Point Wellness Club, hot tub, sauna, steam room, fitness center and locker rooms for two adults. Additional adults are $10 each. Children 17 and under stay for free.
To reserve, please send us an email.
Group Rates
Bring your unit or group for a team-building weekend. Groups of 20 or more should contact the Vacation Planning Center to make special arrangements. Contact us!
Registration
All campers are required to register and prepay at the Edelweiss Lodge and Resort prior to setting up. Each tent or trailer requires a registration tag and must be prominently displayed at all times during your entire stay.
Vacation Village Policies
Advance reservations are required for the campground. Rates are based per campsite/tent. The cabin checkout time is at 10:00. Camper check out time is 12:00. Refunds for early check out will not be given after checkout time on the day of departure. Penalties will apply for late check-out.
The campground bathhouse is not to be used for cooking, sleeping or cleaning bicycles. Pets are not allowed in the bathhouse. Dishwashing sinks are for the washing of dishes only.
There is a limited number of tent sites that offer electrical outlets. You'll need an adaptor to hook into the outside electrical outlets. Adaptors are available at the Edelweiss Lodge and Resort front desk on a first-come, first-serve basis. A $50 hold will be placed on the reservation to sign out an adaptor but is refunded once the adaptor is returned. The adaptor is a 3-pronged plug that fits into the electrical box and the other connecting end is 220 compatible.
Dogs are welcome at the Vacation Village campsites, but cannot be left unattended (vehicles included). Dog-friendly Comfy Cabins can accommodate dogs, but they must be reserved in advance. Dogs must be kept on a leash at all times.
Vacation Village guests are able to use the POiNT Wellness Center located at the Edelweiss Lodge and Resort. Guests not staying in a Vacation Village cabin must pay a fee. (Adults $5.00 / Youth (ages 5 – 17) $3.00 / Child (under 5) are complimentary.
Dog-Friendly Cabin
Don't leave your furry friend behind! They deserve a vacation too. Our comfy vacation cabins are a great way to get a change of scenery while bringing the whole family along. Our dog-friendly cabins include :
• Up to 2 dogs
• Requires a 2-night minimum stay
• Additional dog fee per room, per night
• $150 refundable deposit
• Free access to the Point Wellness Club