Arbeit Macht Frei
Dachau was opened on 22 March 1933 as a concentration camp established by the coalition government of the National Socialist Party (Nazi Party). Built on the grounds of an abandoned munitions factory, Dachau Concentration Camp lies 16 km northwest of Munich. You will visit an exhibit that recounts the terrifying and gruesome days of the Holocaust and watch a video if the history of the camp, including special presentations. Children under 14 are not permitted to watch the documentary film.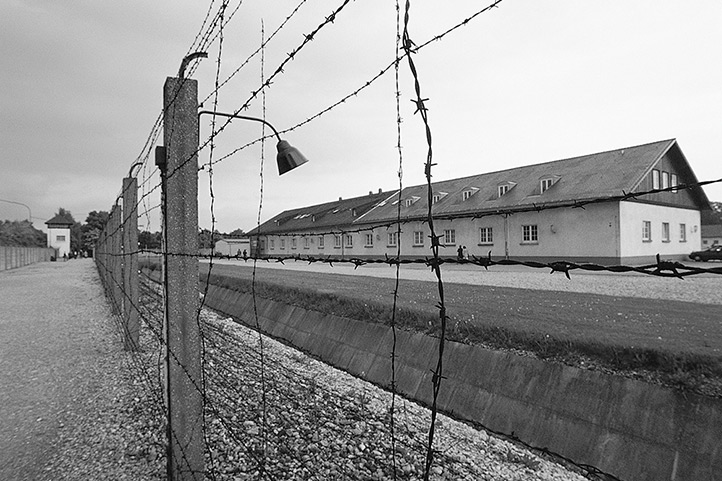 TOUR SCHEDULE AND PRICES
Winter until 30 April 2023:
Sunday 0830 - 1700
$55 Adult / $30 Child (5-14) / $20 Infant (4 and under)
Spring/Summer/Fall until 31 October 2022:
Sunday 0830 - 1700
$49 Adult / $29 Child (5-14) / $15 Infant (4 and under)
If you have additional questions, please stop by Alpine Adventures when you arrive.
Please note: Some tours require guests to wear either a FFP2 mask or KN95 mask. Please make sure you have one with you during tours

RESERVE THIS TOUR!
Ready for an adventure? Request this tour online and our Alpine Adventures staff will add the booking to your room reservation. It is that easy!

Winter 2022/2023 Tour Schedule
(November 1, 2022 - April 30, 2023 (All tours, prices, and schedules are subject to change)
Guided Tour

Time

Adults
(15 & up)

Child (5 - 14)

Infant
(0 - 4)

Monday

0830 - 1700

$75

$35

$20

1815 - 2200

$49

Ages 16 & up

n/a

Tuesday

1030 - 1430

$39

$20

$15

1700 - 1800
1810 - 1910
1920 - 2020

$22

$20

$15

Wednesday

0900 - 1300

$35

$20

$10

1000 - 1500

$45

$20

$15

Thursday

0830 - 1700

$75

$35

$20

1030 - 1430

$39

$20

$15

1700 - 1800
1810 - 1910
1920 - 2020

$22

$20

$15

Friday

0845 - 1530

$60

$35

$20

1700 - 2200

$45 first child; $40 each additional sibling
** Dinner included. Parents can go on Griesbräu Brewery Tour

1815 - 2200

$49

Ages 16 & up

n/a

Saturday

0830 - 1700

$75

$35

$20

1700 - 2200

$45 first child; $40 each additional sibling
** Dinner included. Parents can go on Griesbräu Brewery Tour

1700 - 1800
1810 - 1910
1920 - 2020

$22

$20

$15

1815 - 2200

$49

Ages 16 & up

1800 - 2100

$10

$10

Sunday

0830 - 1700

$55

$30

$20

0900 - 1300

$35

$20

$10
Summer 2022 Tour Schedule
(May 1, 2022 - October 31, 2022 (All tours, prices, and schedules are subject to change)
Guided Tour

Time

Adults
(15 & up)

Child
(5 - 14)

Infant
(0 - 4)

Monday

0800 - 1700

$75

$35

$20

1815 - 2200

$49

Ages 16 & up

n/a

Tuesday

1000 - 1400

$45

$25

$15

1030 - 1430

$39

$20

$10

1800 - 1900
1910 - 2010
2020 - 2120

$22

$20

$17

Wednesday

0900 - 1300

$35

$20

$10

1100 - 1500

$39

$20

$15

Thursday

0800 - 1700

$75

$35

$20

1030 - 1430

$39

$20

$10

1800 - 1900
1910 - 2010
2020 - 2120

$22

$20

$17

Friday

Linderhof Palace (Time changed)

0900 - 1500

$55

$35

$15

1700 - 2200

$45 first child; $40 each additional sibling
** Dinner included. Parents can go on Griesbräu Brewery Tour

1815 - 2200

$49

Ages 16 & up

n/a

Saturday

0800 - 1700

$75

$35

$20

1000 - 1400

$45

$25

$15

1700 - 2200

$45 first child; $40 each additional sibling
** Dinner included. Parents can go on Griesbräu Brewery Tour

1800 - 1900
1910 - 2010
2020 - 2120

$22

$20

$17

Sunday

0830 - 1700

$49

$29

$15

0900 - 1300

$35

$20

$10

1000 - 1400

$45

$25