A Romantic Ride
A romantic ride through the beautiful landscape of Garmisch-Partenkirchen. Enjoy the simple pleasure of a horse-drawn carriage ride through the village of Garmisch. One of our most popular activities that the whole family can enjoy and a great way to get acquainted with the town of Garmisch. Children 1-14 must pay the child's price. Three-time slots are available on days that the tour runs.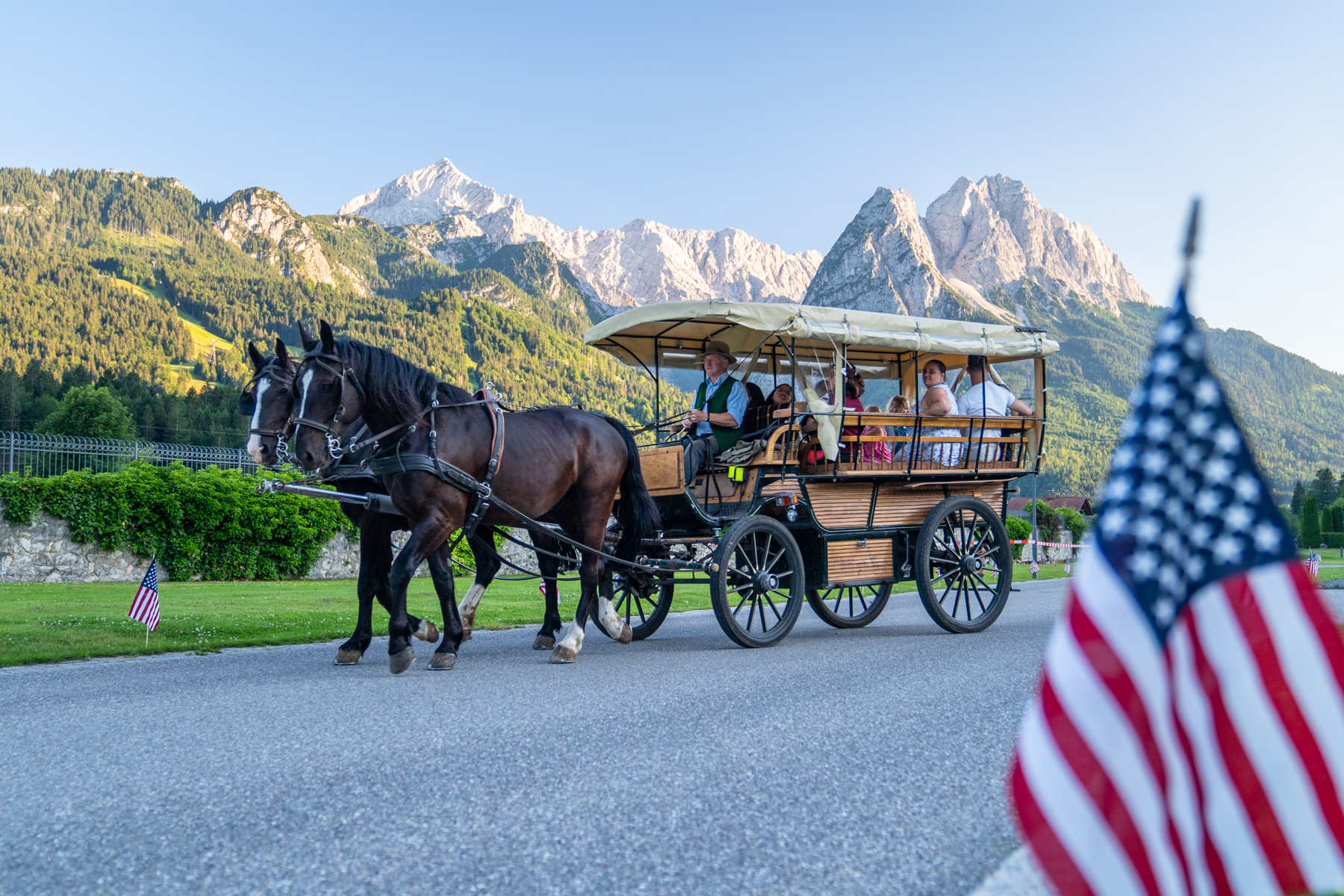 TOUR SCHEDULE AND PRICES
Spring/Summer/Fall until 31 October 2023:
Tuesday, Thursday and Saturday 1800 / 1910 / 2020
$24 Adult / $20 Child (5-14) / $15 Infant (4 and under)
If you have additional questions, please stop by Alpine Adventures when you arrive.

RESERVE THIS TOUR!
Ready for an adventure? Request this tour online and our Alpine Adventures staff will add the booking to your room reservation. It is that easy!

Summer 2023 Tour Schedule
(May 1, 2023 - October 31, 2023 (All tours, prices, and schedules are subject to change)
Summer tours currently can't be reserved. They will be available to reserve in two weeks.
Guided Tour

Time

Adults
(15 and up)

Child
(5-14)

Infant (0-4)

Monday

0800 - 1700

$90

$40

$20

1815 - 2200

$52

Ages 16 & Up

n/a

Tuesday

0800 - 1530

$65

$35

$20

1000 - 1400

$49

$27

$15

1800 / 1910 / 2020

$24

$20

$15

Wednesday

0900 - 1300

$35

$20

$10

1030 - 1430

$42

$20

$15

Thursday

0800 - 1700

$90

$40

$20

1000 - 1500

$47

$20

$15

1800 / 1910 / 2020

$24

$20

$15

Friday

0900 - 1300

$35

$20

$10

1030 - 1430

$42

$20

$15

1700 - 2200

$45 first child

$40 each additional

1815 - 2200

$52

Ages 16 & Up

Saturday

0800 - 1700

$90

$40

$20

1000 - 1400

$49

$27

$15

1700 - 2200

$45 first child

$40 each additional

1815 - 2200

$52

Horse and Carriage Ride

1800 / 1910 / 2020

$24

$20

$15




Sunday

0830 - 1700

$60

$30

$20

1000 - 1400

$49

$27

$15

0900 - 1300

$35

$20

$10