Mountain Descent
High in the mountains above Oberammergau lies adventure for the whole family. First, you'll hop a ride on a two-person chair lift to an elevation of 4,166 feet. You'll have time to enjoy snacks or lunch at the nearby mountain lodge, and kids can also explore the Mountain Adventure Playground. Getting back down brings the fun part. You'll have the option of riding the lift down, which is one way to do it. Or, you could also cruise along an 8,500-foot long Alpine coaster. You may reach speeds up to 25 miles per hour, but you'll have a hand brake to control your own speed.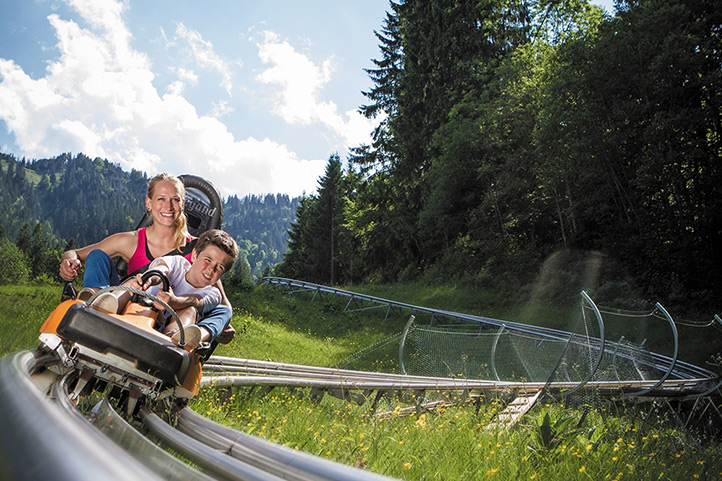 TOUR SCHEDULE AND PRICES
Summer 2023:
Tuesday, Saturday and Sunday 1000 - 1400
$49 Adult
$27 Child (5-14)
$15 Infant (4 and under)
If you have additional questions, please stop by Alpine Adventures when you arrive.

RESERVE THIS TOUR!
Ready for an adventure? Request this tour online and our Alpine Adventures staff will add the booking to your room reservation. It is that easy!

Other Guided Tours
Neuschwanstein Castle
Griesbräu Brewery
Ettal Monastery and Schnapps
Horse & Carriage Ride
Mittenwald
Linderhof and Oberammergau
Dachau Concentration Camp
Winter Partnach Gorge
Hausberg Night Sledding
Kids Night Out
Summer Partnach Gorge
Alpine Coaster Adventure
73 bends, 9 jumps, 7 waves
highest point 4m above the ground
A modern magnetic brake system
Break levers on both sides of the cart
User-regulated speed up to 25mph
Optimized seats with backrest and seat belt

Summer 2023 Tour Schedule
(May 1, 2023 - October 31, 2023 (All tours, prices, and schedules are subject to change)
Summer tours currently can't be reserved. They will be available to reserve in two weeks.
Guided Tour

Time

Adults
(15 and up)

Child
(5-14)

Infant (0-4)

Monday

0800 - 1700

$90

$40

$20

1815 - 2200

$52

Ages 16 & Up

n/a

Tuesday

0800 - 1530

$65

$35

$20

1000 - 1400

$49

$27

$15

1800 / 1910 / 2020

$24

$20

$15

Wednesday

0900 - 1300

$35

$20

$10

1030 - 1430

$42

$20

$15

Thursday

0800 - 1700

$90

$40

$20

1000 - 1500

$47

$20

$15

1800 / 1910 / 2020

$24

$20

$15

Friday

0900 - 1300

$35

$20

$10

1030 - 1430

$42

$20

$15

1700 - 2200

$45 first child

$40 each additional

1815 - 2200

$52

Ages 16 & Up

Saturday

0800 - 1700

$90

$40

$20

1000 - 1400

$49

$27

$15

1700 - 2200

$45 first child

$40 each additional

1815 - 2200

$52

Horse and Carriage Ride

1800 / 1910 / 2020

$24

$20

$15




Sunday

0830 - 1700

$60

$30

$20

1000 - 1400

$49

$27

$15

0900 - 1300

$35

$20

$10