A scenic tour
The rural mountain village of Mittenwald rests along the Isar River at the border of Austria and Germany. Known as "The Village of a Thousand Violins," it has been ranked on multiple sites as one of the most authentic and scenic small towns in Europe. The Klotz family of violin makers, dating back to the 17th century, has made this medieval market town renowned for the craft. Today, there is an institution and museum located in Mittenwald dedicated to the continuing practice of this tradition. Please join us on our picturesque excursion as we learn about the history of the local Luftlmalerei paintings, the significance of trade to the local economy, the 2015 G7 Summit, and much more!
There will be free time to enjoy lunch on your own, at the local Mittenwald microbrewery or at a local restaurant in town.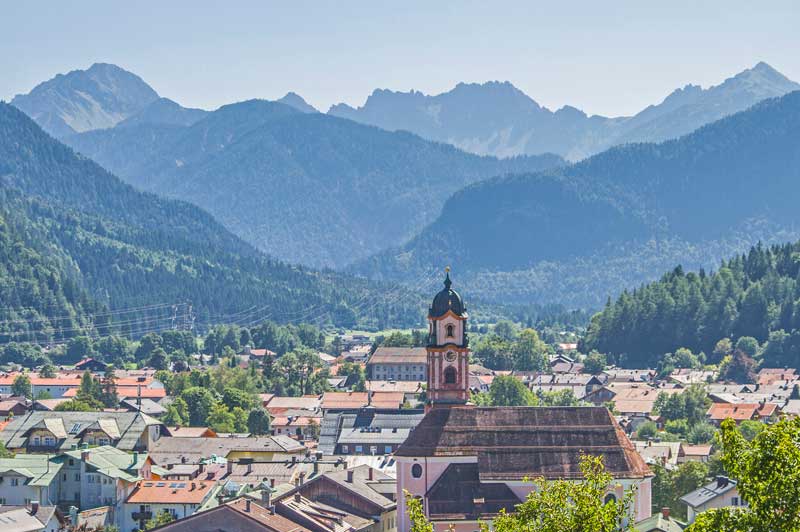 TOUR SCHEDULE AND PRICES
Spring/Summer/Fall until 31 October 2023:
Thursday 1000 - 1500
Adults $47 / Child (5-14) $20 / Infant (4 and under) $15
If you have additional questions, please stop by Alpine Adventures when you arrive.

RESERVE THIS TOUR!
Ready for an adventure? Request this tour online and our Alpine Adventures staff will add the booking to your room reservation. It is that easy!

Summer 2023 Tour Schedule
(May 1, 2023 - October 31, 2023 (All tours, prices, and schedules are subject to change)
Summer tours currently can't be reserved. They will be available to reserve in two weeks.
Guided Tour

Time

Adults
(15 and up)

Child
(5-14)

Infant (0-4)

Monday

0800 - 1700

$90

$40

$20

1815 - 2200

$52

Ages 16 & Up

n/a

Tuesday

0800 - 1530

$65

$35

$20

1000 - 1400

$49

$27

$15

1800 / 1910 / 2020

$24

$20

$15

Wednesday

0900 - 1300

$35

$20

$10

1030 - 1430

$42

$20

$15

Thursday

0800 - 1700

$90

$40

$20

1000 - 1500

$47

$20

$15

1800 / 1910 / 2020

$24

$20

$15

Friday

0900 - 1300

$35

$20

$10

1030 - 1430

$42

$20

$15

1700 - 2200

$45 first child

$40 each additional

1815 - 2200

$52

Ages 16 & Up

Saturday

0800 - 1700

$90

$40

$20

1000 - 1400

$49

$27

$15

1700 - 2200

$45 first child

$40 each additional

1815 - 2200

$52

Horse and Carriage Ride

1800 / 1910 / 2020

$24

$20

$15




Sunday

0830 - 1700

$60

$30

$20

1000 - 1400

$49

$27

$15

0900 - 1300

$35

$20

$10