Schnapps Tour
Buried in the heart of the Ammergau Valley exists the Ettal Monastery. Enjoy a short walk to see the exquisite Basilica. You will learn about the almost 700 years of history that has taken place here in Ettal. Your guide will take you behind the scenes to explore the monastery and get a close up view of the famous Ettal Madonna. We will then visit the newly designed brewing museum to learn about the art of beer making in Bavaria and the over 400 year old brewery at Ettal. Here you will be able to sample various liquors and schnapps made locally by the monks. From the monastery you will take a short walk to the cheese factory where you will discover how local farmers make cheese and other delicious dairy products. At the cheese factory you will have an opportunity to buy different dairy products to go, that are made fresh daily. You will then visit the monastery shop where you can purchase some of the Monks' famous home-made beers and liqueurs. Your final stop will be at an Ettaler woodcarving shop to purchase beautiful crafts and décor.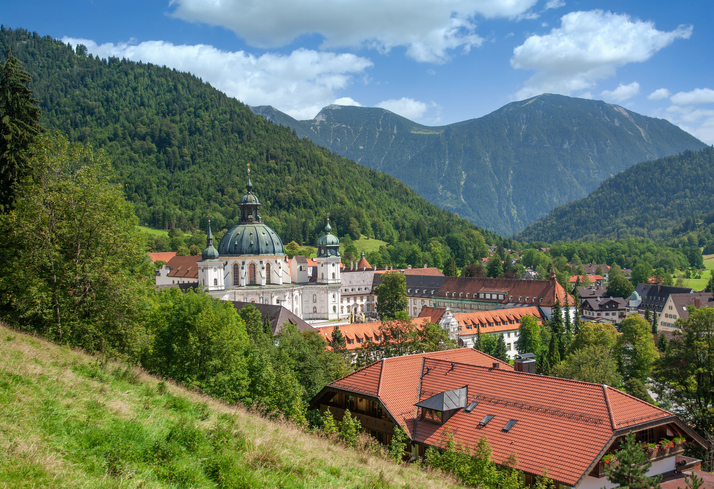 RESERVE THIS TOUR!
Ready for an adventure? See the below schedule for departure days and prices. Request this tour online and our Alpine Adventures staff will add the booking to your room reservation. It is that easy!

Summer 2023 Tour Schedule
(May 1, 2023 - October 31, 2023 (All tours, prices, and schedules are subject to change)
Summer tours currently can't be reserved. They will be available to reserve in two weeks.
Guided Tour

Time

Adults
(15 and up)

Child
(5-14)

Infant (0-4)

Monday

0800 - 1700

$90

$40

$20

1815 - 2200

$52

Ages 16 & Up

n/a

Tuesday

0800 - 1530

$65

$35

$20

1000 - 1400

$49

$27

$15

1800 / 1910 / 2020

$24

$20

$15

Wednesday

0900 - 1300

$35

$20

$10

1030 - 1430

$42

$20

$15

Thursday

0800 - 1700

$90

$40

$20

1000 - 1500

$47

$20

$15

1800 / 1910 / 2020

$24

$20

$15

Friday

0900 - 1300

$35

$20

$10

1030 - 1430

$42

$20

$15

1700 - 2200

$45 first child

$40 each additional

1815 - 2200

$52

Ages 16 & Up

Saturday

0800 - 1700

$90

$40

$20

1000 - 1400

$49

$27

$15

1700 - 2200

$45 first child

$40 each additional

1815 - 2200

$52

Horse and Carriage Ride

1800 / 1910 / 2020

$24

$20

$15




Sunday

0830 - 1700

$60

$30

$20

1000 - 1400

$49

$27

$15

0900 - 1300

$35

$20

$10
Winter 2023/2024 Tour Schedule
(November 1, 2023 - April 30, 2024 (All tours, prices, and schedules are subject to change without notice)
Guided Tour

Time

Adults
(15 & up)

Child (5 - 14)

Infant
(0 - 4)

Monday

0830 - 1700

$95

$40

$20

1815 - 2200

$52

Ages 16 & up

n/a

Tuesday

0845 - 1500

$65

$35

$20

0900 - 1300

$35

$20

$10

1700 - 1800
1810 - 1910
1920 - 2020

$24

$20

$15

Wednesday

1030 - 1430

$42

$20

$15

Thursday

0830 - 1700

$95

$40

$20

1000 - 1500

$47

$20

$15

1700 - 1800
1810 - 1910
1920 - 2020

$24

$20

$15

Friday

0900 - 1300

$35

$20

$10

1030 - 1430

$42

$20

$15

1700 - 2200

$45 first child; $40 each additional sibling
** Dinner included. Parents can go on Griesbräu Brewery Tour

1800 - 2130

$49

Ages 13 and older

n/a

1815 - 2200

$52

Ages 16 & up

n/a

Saturday

0830 - 1700

$95

$40

$20

1700 - 2200

$45 first child; $40 each additional sibling
** Dinner included. Parents can go on Griesbräu Brewery Tour

1700 - 1800
1810 - 1910
1920 - 2020

$24

$20

$15

1815 - 2200

$52

Ages 16 & up

n/a

1800 - 2130

$12

$12

$12

Sunday

0830 - 1700

$60

$30

$20

0900 - 1300

$35

$20

$10